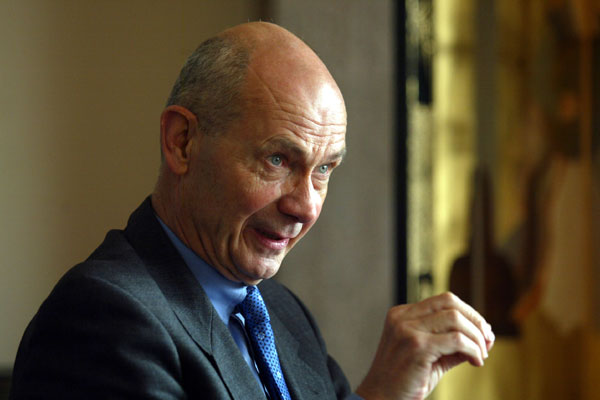 Pascal Lamy, former director-general of the World Trade Organization, file photo by Zhang Wei China Daily 
Although concerns have been expressed regarding the present achievements made by the China (Shanghai) Pilot Free Trade Zone, Pascal Lamy, former director-general of the World Trade Organization, still offers hearty applause for what has been done so far, saying Shanghai has always been at the forefront of China's trade and investment opening-up.
"It is one more way of opening up trade, investment, the financial market and customs systems," he said. "It's one more attempt to improve China through experimentation."
Most changes in the zone so far have been mainly in the services area. It's mostly finance, transport, shipping, trade, legal - the same as everywhere else in China that intends to move further toward the commitment it took when the country joined the WTO, Lamy said.
However, there are far more Chinese enterprises registered in the FTZ than foreign concerns. As Lamy sees it, it is not unexpected because the Chinese are more familiar with the system. But it also shows there is still quite a way to go to provide the necessary certainty, confidence and predictability needed for future success.
"In some areas, the decision that has been made is pretty clear. But when you drill down for more detailed regulations, they are not there. Until and unless the necessary degree of certainty is available, doubts will remain," he said.
Although there has been some simplification of regulations so far, Lamy still finds the so-called negative list a bit long. These are businesses that are not being offered the opportunity to set up in the FTZ.
"I expect the negative list to shrink with time. Of course, it's also an experiment for financial services, offering more freedom for equity operations, cross-border currency flows, renminbi deals. There is also experimentation in trade facilitation, customs procedures, customs clearance - where there are major changes taking place," he said.
Lamy added the situation is still not very clear regarding State-owned enterprises. Obviously, there is an intention to clear the desk and have a more transparent division between the provision of public services on the one side and market-based production of services or commodities on the other. This still remains to be done. And it will be tough because shrinking the SOE sector is always politically difficult.
"The recent opening-up of some Chinese SOEs' business sectors can be interpreted as a signal that the Chinese government is paving the way for a better environment for foreign investment. But shrinking the State-owned system will be difficult and will take some time, notably because that part of the Chinese economy increased quite significantly during the financial crisis.
"It's a major issue. We need the system to be more market-based, transparent, decentralized in many areas," he said.
It is his expectation the Shanghai model will be applied in other Chinese cities, which are now vigorously applying to set up their own free trade zones.
"We all know it is only the first step that will be extended later to the rest of China. There is still some distance between expectation and reality. But this is normal and to be expected. It takes time to get things done," he said.
"It's a major process of change. Like all change, it takes time to happen. You need a lot of political energy. There is resistance, either from sectors that do not want more foreign competition or there will be resistance from the administration for bureaucratic reasons," Lamy said.