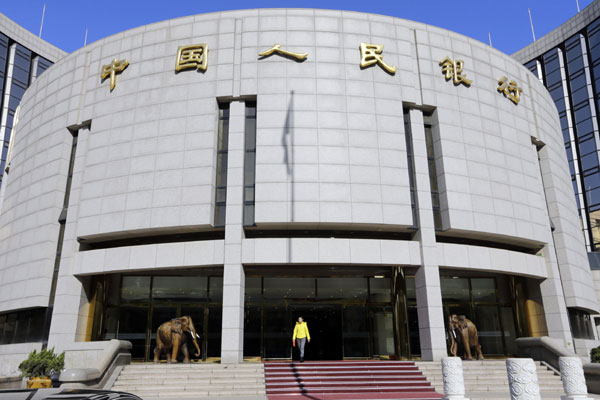 A woman leaves the headquarters of the People's Bank of China, China's central bank, in Beijing, on Nov 20, 2013. Jason Lee / Reuters 
China's financial markets are likely to see frequent defaults this year despite the recent avoidance of such a measure by a trust product, a senior economist with The Economist Group in China warned on Monday.
Xu Sitao, chief representative of The Economist Group in China, said that the liquidity squeezes of June and December 2013 will become a "common scenario" this year and the default of trust or wealth management products will continue to emerge.
"At present, shadow banking is worth paying the greatest attention to in China. China must step up reforms in financial sectors, otherwise, the problem will be very worrisome," Xu said.
Although turbulence will be seen in the financial market, an all-out "Lehman Brothers" crisis is impossible despite the concerns of some overseas investors, he added.
Earlier last month a 3 billion yuan ($490 million) investment product, known as Credit Equals Gold No 1, avoided a default on Jan 31, when it was due to mature. The product was issued three years ago by China Credit Trust, a leading Chinese trust company. The money was raised for a coal miner, Shanxi Zhenfu Energy Group, with advertised annual returns of about 10 percent. It was distributed to wealthy investors by Industrial and Commercial Bank of China Ltd, China's biggest bank. The case caused widespread fears within the financial sector.
But an unknown third party stepped forward to buy an equity stake in the coal miner, which won a valuable mining license just in time to settle the deal and caused a modest loss for the original investors rather than bigger damage. Neither ICBC nor China Credit Trust identified the third party or acknowledged where the funds came from to repay investors.
"Last month's bailout reflected the government's worries about any triggering of a large-scale default," Xu said.