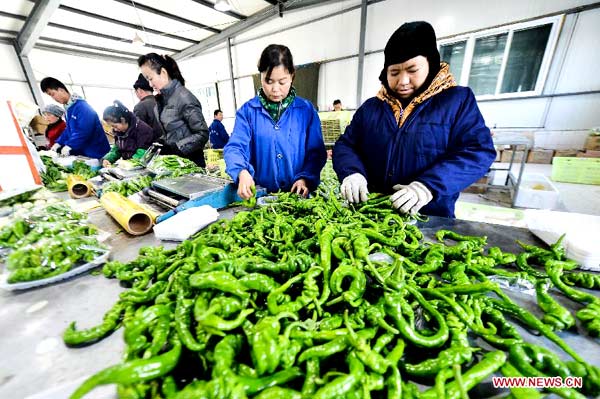 Workers pack vegetables at a vegetable distribution center in Haidong, the second largest city in northwest China's Qinghai province, Jan 22, 2014. Qinghai provincial capital Xining has made efforts to ensure supply of vegetables during the Spring Festival by importing vegetables from surrounding areas including Haidong. The Spring Festival, or the Chinese traditional lunar New Year, begins on Jan 31 this year. [Photo/Xinhua] 
China's consumer inflation held flat in January, with consumer price index (CPI) rising by 2.5 percent from a year earlier, which indicates that inflation may not be a threat in the short term.
The January CPI reading is unchanged from December's. Considering that China's Lunar New Year was in late January this year, which usually boosts consumption and pushes up prices, the reading shows that consumer prices remain stable and controllable.
The US Federal Reserve's decision to taper its
quantitative easing
program, which has led to falling prices of commodities, also contributes to anchoring Chinese prices.
Although food prices rose strongly — up by 3.7 percent -- prices of such staple products as meat and eggs dropped, which indicates that overall prices would not rise sharply in the coming months.
The stable trend will make it easier for policymakers to continue to keep prices at bay, a task that has been one of the top priorities in recent years.
However, what is worrisome is the continually weak factory-gate prices. The Producer Price Index (PPI) fell by 1.6 percent from a year earlier, compared with a 1.4 percent drop in December.
The fall is a sign that the overall economic growth momentum is yet to recover, which is in line with other leading indicators, such as the Purchasing Managers' Index.
So far, we are yet to find many favorable factors that could support a strong rally of the economy. The strong trade growth figures for January are a silver lining in the cloud, but conditions for consumption and investment remain uncertain.