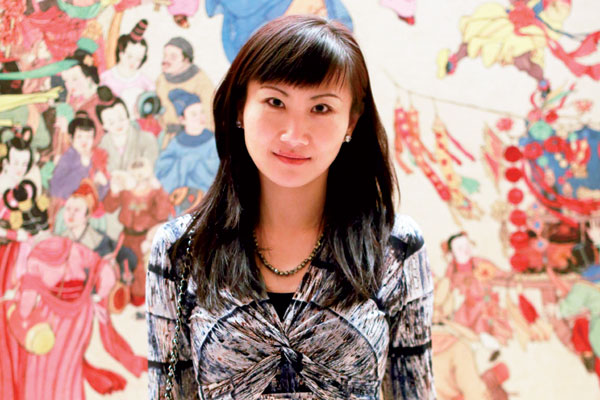 Junheng Li, a successful stocks analyst, is now a best-selling author. Feng Yongbin / China Daily 
Founder of equity research firm says she is concerned about credit bubble
Junheng Li insists she is not as frightening as the title of her new book might suggest.
Tiger Woman on Wall Street, part autobiography but also a candid insight into the pitfalls of investing in China, charts a remarkable career that has taken Li from relatively humble origins in Shanghai to being one of the most successful Asian women on the world's most famous financial street.
"I think the title makes me sound a bit scary. I guess at work I am an aggressive person. I don't give up until I get what I want. I think in my personal life, however, I believe more in fate and luck," she says.
Li, who despite her steely reputation often breaks into laughter, was back in China to promote the book that has already sold out in English in her native country prior to the publication of a Chinese edition.
She will also be speaking at the London School of Economics and at Oxford and Cambridge universities immediately after the Chinese New Year holiday.
Over tea at the JW Marriott Hotel in Beijing, she reflected that there was almost as much glitz and glamor in the country she has left behind than her new home city.
"I don't think New York is as show-off as today's China. In a way you can understand it. Everything has happened so fast here. Everything is a bit too young, a bit nouveau," she says.
One of her book's most graphic passages is the opening where she is forced to kneel on a washboard and recite multiplication tables in front of her father who slapped her across the head if she made mistakes.
She says that although this treatment was harsh it meant she successfully competed against 2 million other children to get into a good high school in Shanghai.
"It is very different today. When I interview kids today coming out of graduate school, they all show up for their interviews with LV bags," she laughs.
She does not regret her upbringing and believes her father was demonstrating his own "language of love".
"It was a reward as well as a punishment system. If I did well, he would bike miles to get me pork buns," she says.
She eventually succeeded in getting a four-year scholarship to Middlebury College in Vermont, where she graduated summa cum laude in economics and mathematics.