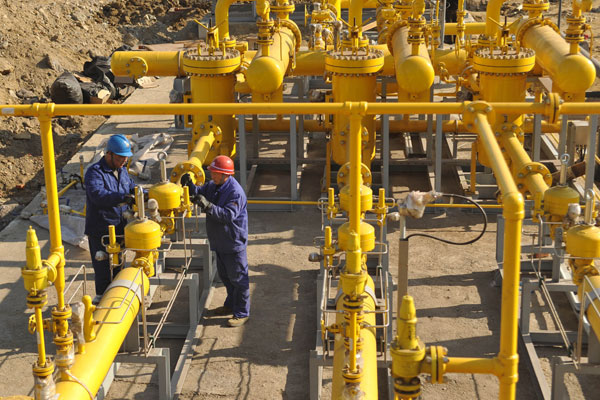 Workers check pressure valves at a natural gas facility in Dalian, Liaoning province. In 2013, China's LNG imports rose 22.4 percent to 25 billion cubic meters, according to the CNPC Economics and Technology Research Institute. Liu Debin / for China Daily 
China predicted to use 45 billion cubic meters of gas by 2030
As China strives to convert to cleaner energy, its liquefied natural gas production capacity will soar in 2014, with higher profits supporting more projects.
Fifty-five projects in the sector will be completed this year, which will bring the country's total daily LNG production capacity beyond 60 million cubic meters, according to estimates from ICIS C1 Energy, a Shanghai-based energy consultancy.
LNG production capacity grew 51.2 percent to 38.35 million cu m a day last year, according to the consultancy.
Figures from the CNPC Economics and Technology Research Institute, which uses different calculation methods, show that China has 66 LNG projects in operation with a total capacity of 33.77 million cu m a day.
The figure will grow to more than 70 million cu m a day this year if all the projects under construction are completed, said the institute.
"Competition in the domestic LNG market is becoming more intense," said the institute. "Participants in the market are diversified, with private, State-owned and foreign companies."
According to the institute, private companies hold a 62.3 percent market share.
Rising profits are the major incentive for the expansion of LNG projects.
According to ICIS C1, the average LNG price last year exceeded 4,000 yuan ($659) a metric ton. The price peaked at 4,750 yuan a ton in November, or 1,021 yuan higher than a year earlier, according to the consultancy.
"Most LNG suppliers had better profits last year thanks to growing demand based on LNG consumption in the transportation sector," said the consultancy.
LNG consumption is surging around the world because of increased restrictions on emissions.