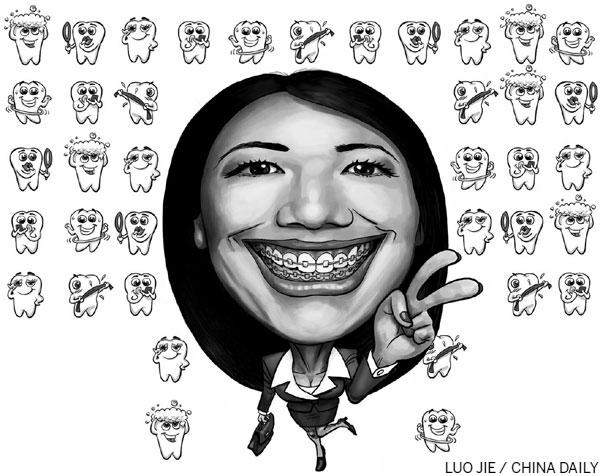 Braces get lighter and more comfortable, prompting many younger people to pay the price for feeling more attractive and improving their image at work
Gaining "face" for face-loving Chinese no longer means merely carrying a Louis Vuitton bag, driving a brand-new Ferrari or getting the latest iPhone.
It's gotten more literal.
As well-off Chinese mingle with their counterparts elsewhere in the world through travel and studying abroad, many have come to realize that nothing damages their "face" more than a mouthful of crooked teeth.
Deep-pocketed dental upstarts have been quick in providing a remedy. And today it's not usual to see adults strolling around confidently in downtown shopping malls wearing shiny orthodontic braces.
In the new super-chic iAPM Mall that opened last year on Shanghai's downtown Haihuai Road, 28-year-old Chang Yue voiced regrets that she hadn't straightened her teeth as a teenager.
"Few people knew then that having white, straight teeth could be so important - definitely not my parents. It takes more time to do it now, but it's still worth it," she said.
Chang, a successful saleswoman for a multinational drug company in Shanghai, got the courage to undertake the three-year course of orthodontic work after observing one of her colleagues.
She said that she was "deeply impressed" with the improvement in her colleague's smile. And experience from work made her realize how a gleaming smile could improve her presentations when dealing with international clients.
Chang is six months into her orthodontic treatment. The entire program will cost 20,000 yuan ($3,294), which is at the lower end of the price spectrum for orthodontic treatments in Shanghai.
"I have faith that the money will be well spent," she said.
Chang is one of the many young adults in China who are making regular visits to orthodontic clinics that they didn't have the awareness or resources to visit when they were teenagers.
A recent survey of 240 Chinese undergraduate students at the University of Hong Kong aged 18 to 27 found that 47 percent of them had moderate orthodontic treatment needs and another 33 percent had great or very great treatment needs.
The three most common reasons given for participants seeking orthodontic treatment were to improve their appearance, self-image and self-confidence.
According to the China Dental Industry Report (2012-2014), provided by Researchandmarkets.com, the scale of the dental equipment market in China surged by 31.6 percent year-on-year in 2011 to 2.59 billion yuan. But China still lags far behind its developed-nation counterparts in the dental equipment field.
The proportion of adults among all orthodontic treatment patients in China has grown from 10 percent to 20 percent a decade ago to 30 percent at present.