Risks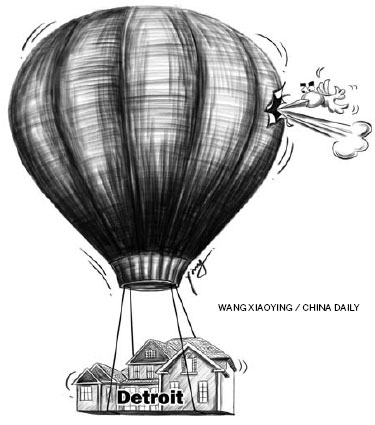 Think twice before you invest in overseas property. Buyers who do so are taking a risk and may not be protected by the existing ordinance. >>>
Chinese people have developed a new craze: real estate investment. The sale of "one-dollar villas" in the United States as a result of the subprime crisis a couple of years ago prompted some Chinese investors to go bargain hunting across the Pacific. Now Detroit, which is on the verge of bankruptcy, has lured Chinese "realty hunters" with its "low property prices".
But the enthusiastic comments and conjectures that online discussions have generated over the development are devoid of a real understanding of the situation.
Even if the annual property tax charged by the US government is ignored, the socio-economic factors involved in such ventures make investing in real estate in Detroit a "no deal".
The "rock bottom" price of property in Detroit could be the result of a cyclical crisis rather than the decay of its pillar industry. The crisis could also lead to social unrest, which would be anything but profitable for investors. >>>