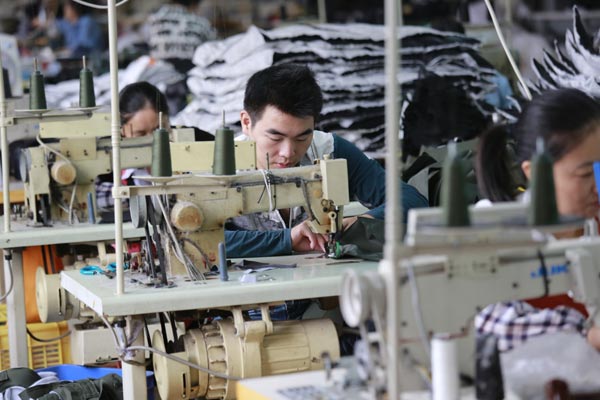 Workers make clothes for exports in a factory in Jiujiang, Jiangxifiona province. China is the world's largest clothes exporter. Provided to China Daily

A Chinese provincial sewing shop owner gambled on move to Africa
Twenty-two years ago when Xu Zhiming started a small workshop sewing clothes in Zhuji, Zhejiang province, he saw his future close to home.
But his sharp business brain spotted greater opportunities in a place few Chinese then knew much about - Africa. Xu moved his business there well ahead of his Chinese competitors. Now he has built up a strong presence on the continent.
Xu, chairman of the Yuemei Group, now does 40 percent of his business in Africa and the remaining 60 percent in China. He predicts that those numbers will be reversed in three to five years. The company's current annual output in Africa is worth $30 million.
"Africa will definitely be the manufacturing center of the world in the future," Xu says.
His latest acquisition in Africa has confirmed his confidence in this vast new market. He recently bought a cotton plantation in Mali which will soon supply raw materials for his clothes-making operations in Africa. Once the mill reaches its full capacity, it will cut the cost of raw materials by 50 percent.
Xu was born in 1964 in Zhuji, a county famous for its long history and high-quality pearls. For the past 2,000 years, it has also been one of the most prosperous counties in China. That prosperity has given people there a natural talent for business.The area's proximity to the sea makes trading overseas much easier.
Growing up in such an area, Xu was destined to be a businessman. Government policy also favored this outcome. In the early 1990s when Xu was in his late 20s, China started another round of reform and opening-up. More cities were "opened" as pilot projects with favorable tax policies to promote trade and manufacturing. Xu's hometown was among the quickest to react. Soon hundreds of small private enterprises were popping up.
Xu started his own venture - making clothes - in 1992 with a few family members. He has developed it into a business empire covering clothes-making, real estate development and international trade and investment. He employs more than 5,000 people.
For the past 13 years, Xu has been selling clothes to Africa through dealers. His company's colorful shirts were best-sellers in Nigeria. Before that, Yuemei depended on a Hong Kong dealer to handle the Nigerian market - and the company's profit margin was only 5 percent. But after it made direct connections with the African market, the margin rose to 25 percent.
In Nigeria, Xu earned his first pot of gold. The country is near the equator and the weather is hot and damp all year round. Local people wrap cloth around their heads to ward off the fierce sun, or they use them as basic garments. But Nigeria did not have a textile industry of its own and Xu's products caught on quickly.