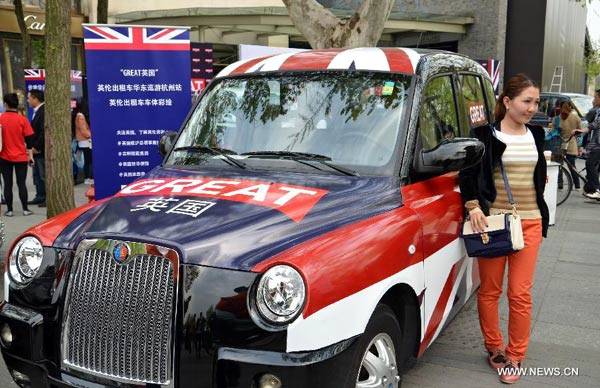 A visitor poses for photo with a British taxi at a cruise for the "Great Britain" promotion event in Hangzhou, capital of east China's Zhejiang province, April 8, 2013. [File photo / Xinhua] 
London Taxi Co, the Chinese-owned taxi maker, has said it's determined to stand up to rivals after London's taxi market enters a new era of zero emissions.
LTC, which dominates London's taxi market with its TX4 model, will face new competition from four companies that are producing zero-emission taxis to comply with new regulation set to kick in by 2018.
LTC has revealed its plans to launch a zero-emission taxi model by 2018, which will be a plug-in extended range electric taxi, with its exterior in the same recognizable shape of London's black cabs.
London Mayor Boris Johnson recently announced that all new London taxies to be made from 2018 onward will be zero-emission capable.
To achieve this goal, the mayor and Transport for London - the local government body in charge of Greater London's transport system - have been working with five companies to develop new taxies, including LTC, Frazer Nash, Nissan, Karsan and Mercedes.
Currently, the LTC TX4 and the Mercedes Vito are the only two available black cab models in the London market.
There were almost 23,000 black cabs licensed to operate in London at the beginning of January, with the Mercedes Vito accounting for 2,177 and the rest made by LTC.
Peter Johansen, vice-president of UK operations at LTC, said his company is well prepared for the new challenges.
He said LTC's longer expertise in the taxi industry gives it an advantage, as all its taxis are purpose built, so they last more than van-converted taxis.
Rob Laidler, director of UK retail at LTC, added that LTC's large network of well-trained support and repair technicians in the UK also allow it to provide better after-sales service to drivers. The company currently has 50 dealers in the UK.
LTC was founded in the English city of Coventry in 1899, and in 2013 the company was acquired by China's Zhejiang Geely Holding Group Co Ltd.
To help LTC develop environmentally friendly taxis, Geely said it's committed to invest 200 million pounds ($327 million) to help LTC develop green-taxi technology over the next five years.
Meanwhile, other taxi companies plan to challenge LTC's leading position. British manufacturer Metrocab is currently developing zero-emission taxis, which it expects to launch in 2015.
Sheban Siddiqi, Metrocab's business development manager, said the new model will help taxi drivers to save money compared with LTC's current TX4 model.
"LTC has been recognized as the black cab company for some years, but the TX4 is quite outdated in technology. The world is moving forward and we have to look at new technology," Siddiqi said.
TLC's TX4 model is the cleanest London taxi to date. It emits 99 percent fewer diesel particulates and 80 percent less nitric oxide and nitrogen dioxide than its predecessors two decades ago.