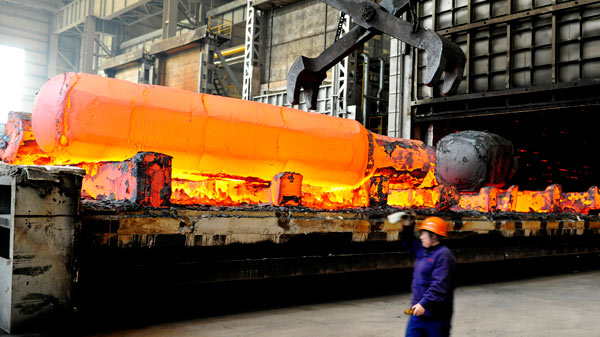 A steel casting facility in Luoyang, Henan province. The iron and steel industries are among those that have the most serious problems with overcapacity. [Provided to China Daily] 
BEIJING
- China's industries beset by
overcapacity
have entered a more favorable demand-supply balance, D
eu
tsche Bank said on Tuesday.
The bank estimated the cement industry would reduce its added capacity by 35 percent in 2014 while the steel sector could raise its use ratio to 78 percent.
"The reality is not as bad as many investors imagined," said Ma Jun, Deutsche Bank's chief economist for Greater China.
Overcapacity has been threatening the stability of the world's second-largest economy. Many companies in once "strategic industries" have borrowed heavily from banks but now they can only survive by receiving funding through shadow banking, according to analysts.
The indebted enterprises pushed up borrowing costs and fed shadow banking risks. But the market also fears their collapse would trigger a wave of defaults hurting Chinese banks that are already seeing profitability dwindling.
Tackling overcapacity was highlighted as a major task in 2014 at a meeting charting economic policies.
The Chinese economy, buoyed by eased overcapacity and enhanced reforms, will grow 8.6 percent in 2014, according to Deutsche Bank. The forecast is higher than the market consensus.
China's economic growth picked up in the July-September period after two quarters of slowdown, thanks to earlier credit expansion and a boost in market confidence.
Chinese leaders promised an economic overhaul package in a tone-setting conference in November, pledging to give the market a "decisive" role in allocating resources.
"Reforms should begin to enhance growth in 2014, mainly by boosting private investment in sectors such as railways, subways, healthcare, finance, new energy, and the environment," Ma said.
The market expected regulators would seek to find a balance between supporting growth and de-leveraging the economy when planning macro policies in 2014.
According to Deutsche Bank, China's interest rates will remain stable for the first half of this year and might shift toward a tightening bias in the second half.
New model to tackle excessive steel capacity
Link overcapacity with performance: Experts