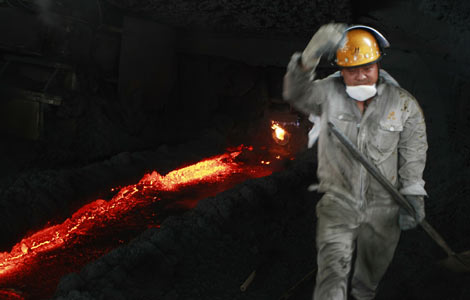 A steel worker in Hengyang, Hunan province, June 19, 2013.[Photo by Jiang Jun/Asianewsphoto] 
The Ministry of Industry and Information technology ranked overcapacity as a major challenge in 2013, saying that outdated production lines involving 1,569 companies have been shut down in the last year.
The ministry published an industrial report on Monday, pointing out that overcapacity is shifting from traditional industries such as steel, nonferrous metal, construction, shipbuilding to new emerging industries, including wind power, solar power and carbon fiber.
"Rapid new investment and increasing production capacity of industries with overcapacity problems are key matters that affect the country's economic sustainable development," said the report.
According to a survey from the Development Research Center of the State Council, 67.7 percent of 3,545 companies said it will take more than three years to solve overcapacity while 22.7 percent of companies believe that it will take more than five years.
dujuan@chinadaily.com.cn