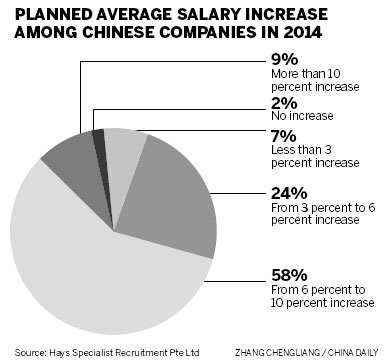 China will see the strongest salary growth among all Asian countries in 2014, even though the nation's economic growth rate has been slowing down, a report from global human resources firm Hays has said.
According to the 2014 Hays Asia Salary Guide, which was released on Thursday and polled about 2,600 employers across the region, 67 percent of the surveyed Chinese employers said they will increase employees' salaries above 6 percent, compared with 66 percent last year.
Only 29 percent of polled employers from other Asian countries and regions said there would be a salary increase above six percent in their organizations, with the rate remaining the same as in the previous year.
About 9 percent of Chinese respondents said they will increase their employees' salaries by more than 10 percent in 2014, compared with 12 percent last year.
"Salaries remain competitive in China, and for top talent many employers offer higher packages to entice candidates, proving that money still talks. China is the standout performer when it comes to salaries in Asia," said Simon Lance, regional director of Hays in China.
Meanwhile, cost-control measures have lowered the ceiling for salary increases in many organizations across Asia, said Lance.
Along with offering competitive salaries to employees, there' also has been a sharp increase in the number of organizations offering benefits in an attempt to boost employee-retention level across Asia. About 85 percent of the polled organizations now offer their staff benefits, up from 79 percent last year.
Hiring demand remains quite robust in Asia. About 71 percent of employers expect business activity to increase, while 43 percent expect their permanent staff levels to rise.
"This means that candidates with in-demand skills and realistic salary expectations can be confident that this year will provide them with the opportunity to secure a challenging career move and a salary increase," said Lance.
As the Chinese central government is attaching great importance to an economic rebalancing process, which means boosting domestic consumption levels and decreasing investment, the service industry in China will see rapid growth in the next few years, said Liu Ligang, chief economist at ANZ Banking Group in Greater China.
In the Chinese job market, pharmaceutical companies, especially R&D-oriented firms, companies providing financial technology services, manufacturing companies specializing in niche technologies such as avionics, as well as oil and gas companies focusing on niche skill sets, will have the highest demand for qualified candidates in the next 12 months as well as the highest possibility of offering a generous income increase, Lance added.
Most major players in the biotech industry have relocated their global R&D centers to China. This has created huge demand for qualified talent with R&D background, said Hank Tu, senior manager at Hays China.
People with market access expertise will also be in huge demand in the biotech industry, Tu added.