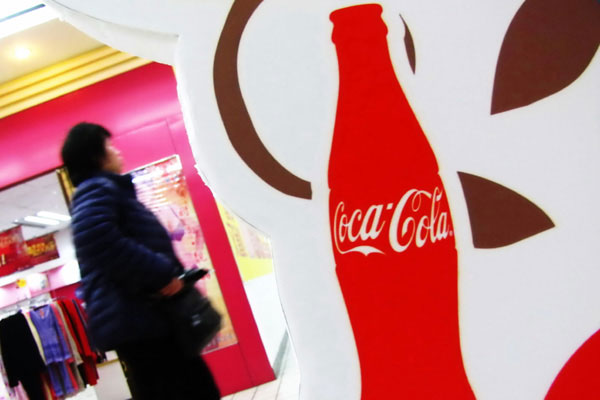 A woman passes by a Coca-Cola advertisement on Jan 26, 2013 in Shanghai.[Photo/Asianewsphoto]
SHANGHAI - Coca-Cola is stepping up innovation of soft drinks in China, where market forces and increasingly sophisticated consumers are charting the future course of the beverage industry, the company's China chief said on Wednesday.
Atlanta-based Coca-Cola has been working to make its China operations adapt to the demands of Chinese consumers as it seeks to retain its dominance in China's growing beverage sector.
Though the company takes pride in having introduced soda to China 35 years ago, it has felt pressure to attend to the preferences of Chinese consumers.
"We understand Chinese people want Chinese flavors and Chinese concepts, and we are using our R&D facilities for more products in China," said David G. Brooks, Chairman of Coca-Cola Greater China and Korea, on Wednesday during an event marking the company's 35th anniversary in China.
Back in the late 1970s, shortly after the People's Republic of China and the United States forged formal diplomatic ties, Coca-Cola entered the Chinese market under a deal with the State-owned China National Cereals, Oils and Foodstuffs Corporation (COFCO).
Under the deal, the US beverage producer was allowed to sell Coke at scenic spots and in major Chinese cities and build bottling plants in the country.
People involved in establishing Coca-Cola's Chinese presence 35 years ago said Coke was not targeting Chinese consumers at that time. Executives persuaded Chinese authorities to make the soda available for foreigners traveling to the country in order to bring in more foreign income and boost tourism.
According to Zhang Shoujun, one of the earliest Chinese employees in Coca-Cola's Chinese plant, the caramel-colored cola didn't taste good on first sip.
"It leaves this weird traditional Chinese medicine-like taste in your mouth," Zhang said, "but we figured since it was popular in other parts of the world, it should feel welcome in China."