China's e-commerce market witnessed a boom in 2013. On Nov 21, 2013, China's Ministry of Commerce released an e-commerce development blueprint, which pointed out that at least 10 percent of China's total trade consisted of exports and imports via e-commerce.
During China's e-commerce market mushroom, some traditional manufacturing businesses in Guangdong province stood out as they utilized the Internet to serve as a driving force behind their market expansion.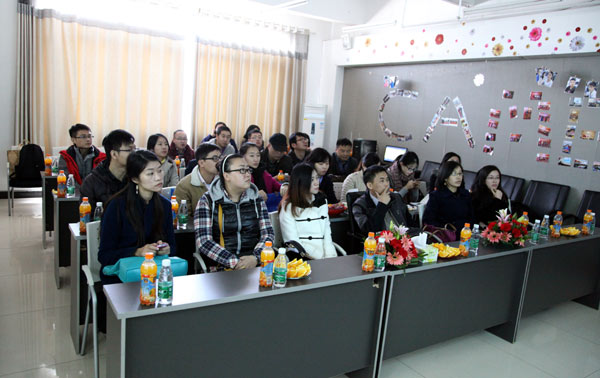 Web journalists attended a group interview with Guangdong CAMEL Clothing on Dec 24, 2013 during the "Guangzhou e-commerce companies' tour of national web journalists." The entire media activity was held from Dec 23 to Dec 27 2013 and organized by the committee for "Shopping online for Guangzhou manufactured products" and undertaken by southcn.com. [Photo / Provided to chinadaily.com.cn]
According to the report "2013 Greater China Retail Export Industry Landscape" published by eBay on Nov 27, 2013, Guangdong province exceeded Hong Kong and Shanghai, and ranked at the top of China's e-retail export hubs.
In order to explore developing e-commerce trends in Guangdong, a group of Internet journalists from central and provincial official media joined the "Guangzhou e-commerce companies'tour of national web journalists." The media activity was held from Dec 23-27, 2013 and organized by a committee called "Shopping online for Guangzhou manufactured products" and undertaken by southcn.com.
During the five-day visit, different scales of businesses within the e-commerce industry, including individual household sellers on Alibaba's Tmall (a business-to-customer online marketplace), online sales start-ups, e-commerce and creative industrial park along with traditional retail manufacturers were visited by the group.
Online surfing growth
Compared with the massive newly-built online sales brand, the first CAMEL product was sold at its physical store in 2005 in Beijing.
In 2009, Guangdong CAMEL Clothing started providing online sales, and like other traditional retail companies, the original sales model was meant to utilize the e-commerce platform as a clearance tool.
While under the development of the e-commerce industry and the expanding of CAMEL's business, the company's leaders realized the business opportunities that exist within the electronic commerce marketplace.
In 2010, CAMEL officially launched its online sales store on Tmall.com and rebuilt a new marketing strategy separating its online and offline sales business. "The key of CAMEL's successful e-commercialized revolution is to practice different online to offline approachs," said Wan Jinang, general manager of Guangdong CAMEL Clothing. According to Wan, in order to meet the demands of online consumers which are made up mostly of younger people, CAMEL's online products are more fashionable and seductive.
Shinning shopping spree
Although Nov 11 was just a normal day back in 2009, e-commerce giant Alibaba launched its first Singles' Day sales campaign on Taobao and Tmall, and since then the day has become China's most popular annual consumer event, and is also considered an e-commerce miracle.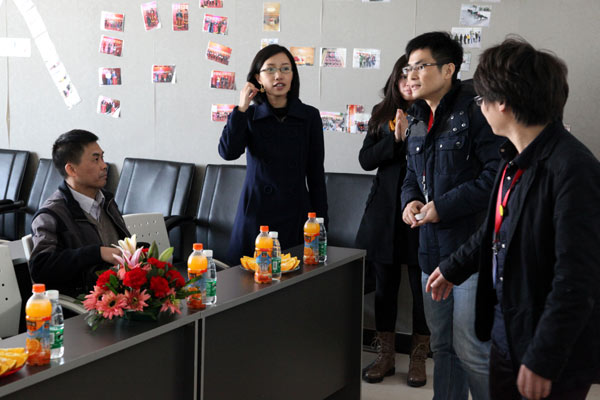 An online journalist (center) talks to employees from CAMEL's brand building department on Dec 24, 2013 during the "Guangzhou e-commerce company tour by national web journalists." The activity was held though Dec 23 to Dec 27, 2013 and organized by the committee for "Shopping online for Guangzhou manufactured products" and undertaken by southcn.com. [Photo / Provided to chinadaily.com.cn]