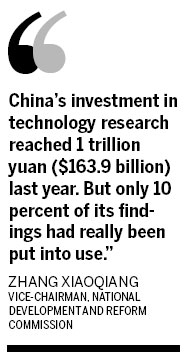 China's current economic growth model is "unsustainable," and an "updated" style based on innovation must be forged, said deputy finance minister Wang Bao'an.
In an article published in the latest issue of Qiushi, a bi-monthly political theory periodical of the Central Committee of the Communist Party of China, Wang bluntly criticized the present growth model, calling it "unsustainable".
He characterized the feature of China's growth model as "high input, high resource consumption, high pollution, high growth" and "low output, low efficiency, low profit, low tech".
In the 5,000-character article, he spent half of the content talking about the "unsustainability" of China's economy and the other half on how to build an "updated economic version", a term coined by Premier Li Keqiang.
He said China's economic dividend is low, stating GDP produced by each employee is just 21 percent of that of the United States. To get an additional dollar in GDP, about $5 has to be invested. The needed investment is 40 percent higher than in Japan and South Korea when their economies took off.
China is still at the lower end of the global value chain, he said, citing 2011's exports, in which 61 percent are medium to low value-added products. Although the output of 220 kinds of industrial products topped the world in 2011, key parts still need to be imported.
To change the situation, he said the country's institutional environment needs to be overhauled.
In the past few years, Chinese top officials have been not shy about discussing the flaws of China's economic growth model. But these comments were often buried in pieces praising the progress achieved. Devoting such a large portion of text to addressing problems is rare.
Xu Shaoshi, chairman of the National Development and Reform Commission, China's top economic planning agency, last Friday told the Standing Committee of the National People's Congress, the top legislature, that downward pressure on the economy is not to be taken lightly when China's "traditional growth model" faces challenges from a different market environment.
"The traditional comparative advantage is weakening, while it will take time for us to build a new advantage."
There are still uncertainties over global economic recovery and labor costs are rising domestically, he said.
Financial risks are also looming, with a hefty proportion of debt financing concentrated in public infrastructure projects that only generate low returns in the long run. There is already oversupply in the manufacturing and real estate sectors, he said.
The commission expects 2013's GDP growth to be above the official target of 7.5 percent and set this year's growth target at 7.5 percent.
Zhang Xiaoqiang, vice-chairman of the commission, criticized the current innovation system in a recent forum, saying the most urgent issue now is not to add science and technology research input but to accelerate the reform of innovation.
"China's investment in technology research reached 1 trillion yuan ($163.9 billion) last year. But only 10 percent of its findings had really been put into use, while in developed countries the ratio is above 40 percent," he said.
Wang in the article also said the number of China's research and development personnel topped the world with 3.2 million. But R&D spending in corporations accounted for less than 1 percent of their sales revenue. In developed countries, the ratio is usually between 2.5 to 4 percent.
Xu Hongcai, an economist at the China Center for International Economic Exchanges, said this chorus of criticism affects a deep-rooted worry among the leadership over the nation's growth model and shows they are willing to suffer pain to restructure the economy.