Market in antiques booms in Shanghai
The shop assistant served cold drinks to the visitors at Modern Shanghai, a furniture and home decor store in downtown Shanghai.
The drinks are just ordinary canned coffee, but the refrigerator that keeps them cool is unique. It's 80 years old and runs perfectly.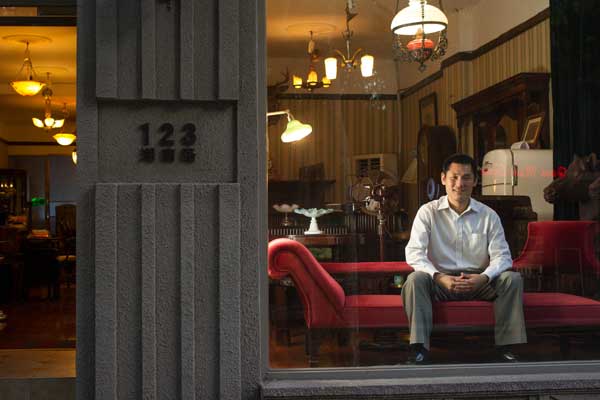 Hu Ping sits in Modern Shanghai, his furniture and home decor store. He and his wife opened the store to cater to China's growing interest in antiques. Below: Antique furniture is displayed at Modern Shanghai.[photos by Gao Erqiang]
These types of antique, Western-style wares and furnishings are gaining popularity in Shanghai as well as in other parts of China.
Professional dealers have been visiting European antique markets and bringing their carefully selected finds to China for the past five years.
Shanghai, one of the first Chinese cities to open to foreign trade in the 1800s, has a unique past in the antique market. It also has a dedicated group of lovers of the old pieces as well as the histories behind them.
"I've been very interested in art deco," said Shen Jialu, a columnist and journalist in Shanghai. It is a visual art style popular in the first few decades of the 20th century that featured bold geometric shapes with smooth, straight lines in architecture and design. "Many of the old furniture pieces from Shanghai are typical of the style."
Shen is known among Shanghai's antique lovers for his sharp eye and refined taste. Modern Shanghai is one of the shops that he frequents for old furniture.
Rare treasures
The shop sits at the crossing between Wukang Road and Hunan Road. More than half a century ago, this was part of the French concession. Lots of old buildings featuring English, Spanish and other Western styles still stand there in the shade of sycamore and camphor trees.
The owner of Modern Shanghai is Hu Ping, 41, whose "real job" is in finance and securities. "We deal with antique, or used, furniture and home appliances from Shanghai in the early 20th century," Hu told China Daily, sitting on an 80-year-old sofa wrapped in new leather. His shop is filled with old couches, closets, wardrobes, record players, furnaces and so on. "They are relics of a different age and lifestyle more refined and classy."
A woman came in the store to ask about a sofa in crimson velvet and complained that the price of more than 15,000 yuan ($2,450) was "too high". She said that in Europe, where she was from, "anything from less than 100 years ago is not antique, but only used goods".
Whether they are antique or used, Hu believes these old pieces are rare treasures from the past. Shanghai's Western-style old furniture pieces have distinctive qualities, he said.
They were either brought back by people who traveled or studied abroad or tailor-made in Shanghai in the art deco-style from fine wood for Chinese households.