US moves against China firms criticized
Banker says blocking Sany, Huawei Technologies 'totally groundless'
A decision in the United States to block Sany Group Ltd's involvement in a wind farm project was "foolish" and blurred the whole picture of a general open US attitude toward Chinese investment, a top Chinese banker said at the Summer Davos.
Li Ruogu, chairman of the Export-Import Bank of China, a State policy bank, said the US move was "totally foolish" and its justification of the move citing "national security" was totally "groundless".
Sany is a major Chinese private-sector maker of heavy equipment.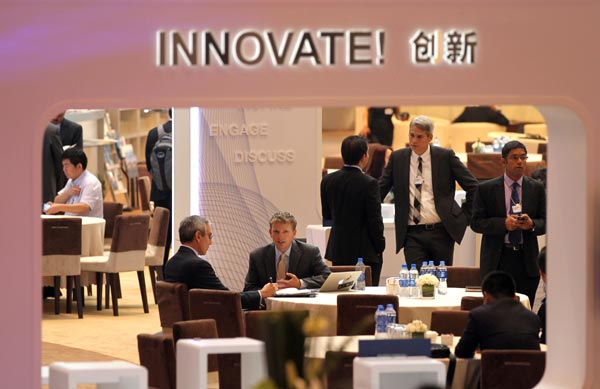 Participants chat during a break at the Summer Davos in Dalian, Liaoning province, on Thursday. Francisco J. Sanchez, US undersecretary of commerce for international trade, said the US is open to Chinese investment. China's direct investment in the US grew 123.5 percent to $4 billion in 2012. Zou Hong / China Daily
"The case, as well as the Huawei case, is so typical. I don't know why the US government made such a foolish decision. Isolated cases have made an issue that should not be a 'problem' into a 'problem'," he said.
Ralls Corp, which is incorporated in Delaware and operates out of Peachtree City, Georgia, is privately owned by two Chinese nationals - Duan Dawei, chief financial officer of Sany Group, and Wu Jialiang, a Sany vice-president and general manager of subsidiary Sany Electric Co.
Ralls had sought to build or acquire US wind farms where Sany's turbines could be used. One of those farms was in Oregon, near restricted airspace above a US military base. US President Barack Obama decided to block the project.
Another private company Huawei Technologies Ltd, was barred from access to the US market, also over national security concerns.
The two cases, both of which took place in late 2012, generated widespread media coverage and heated debate in China, exacerbating the perception that the US market is persistently closed to Chinese investment.