Wang tops Hurun wealthy list
Real estate, entertainment mogul overtakes head of beverage giant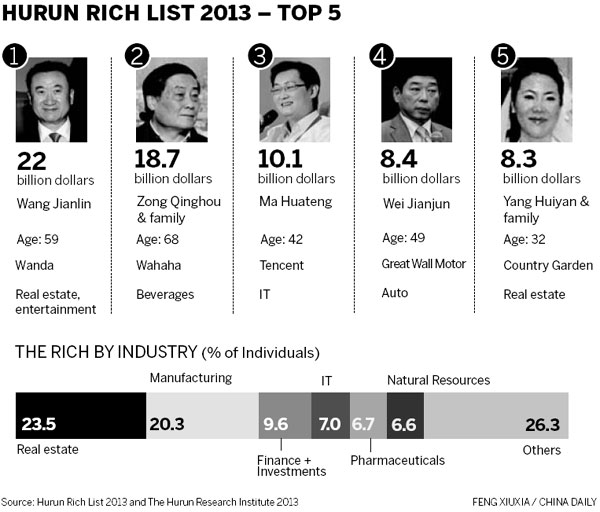 Wang Jianlin, chairman and president of Dalian Wanda Group Corp Ltd, overtook Zong Qinghou to become the richest man in China, according to the Hurun Rich List 2013, which was released on Wednesday.
This is the first time that Wang, 59, tops the list. His personal wealth has doubled to $22 billion in 2013, a record-high amount in the Hurun list's 15 years of publication.
Known as one of the world's biggest landlords due to the number of shopping malls he owns, Wang has 61 percent of Wanda, which will have 17 million square meters of property under management at the end of 2013.
Wang said in a recent speech at the Summer Davos meeting in Dalian that China's urbanization process will be the driving force of the country's economy, and it means that about 350 million people will become urban residents in the next 20 years, requiring a large amount of steel, iron, cement and other construction materials.
But Wang is eyeing other sectors. He has become the world's largest operator of cinema screens after his multi-billion dollar acquisition of the United States-based cinema chain AMC Entertainment Holdings Inc last year.
In addition, Wanda bought British luxury yacht maker Sunseeker for $520 million in June, and will invest $1 billion in a hotel and luxury apartment complex in London, as part of his plans to build one of China's biggest hotel brands.
Dalian Wanda Group's revenue was about $23 billion last year, up 34.8 percent year-on-year, and the target this year is around $29 billion.
And although 68-year-old Zong Qinghou, the chairman of Hangzhou-based beverages giant Wahaha Group Co Ltd, is on the second spot on this year's Hurun list, his wealth has grown 44 percent year-on-year.
Wahaha's sales revenue rose 23 percent year-on-year to reach $10.3 billion in 2012. Zong and his family's stake in the group increased to 95 percent from 80 percent last year.
Ma Huateng, 42, co-founder and chairman of Tencent Holdings Ltd, is third on the list with personal wealth estimated at $10.1 billion.
Ma is the youngest among the top 10 richest men on the list, and this is the first time that he is among the top three.