Li vows to provide more jobs
Premier confident of steady growth, expecting reform to release 'biggest bonus'
China will strive to generate more jobs in coming years by launching additional reform policies and placing greater emphasis on the service sector's role, Premier Li Keqiang said on Tuesday.
He highlighted the government's task of assuring people's livelihoods, saying this to a great extent means providing jobs.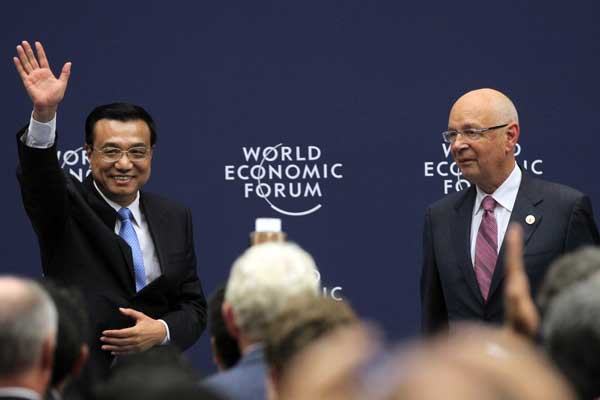 Premier Li Keqiang, accompanied by Klaus Schwab, executive chairman of the World Economic Forum, meets business representatives before the World Economic Forum Annual Meeting of the New Champions, also known as the "Summer Davos", in Dalian on Tuesday. The three-day forum is scheduled to start on Wednesday.[ZOU HONG / CHINA DAILY]
The premier's comments came as he met a group of global business executives before the World Economic Forum Annual Meeting of the New Champions 2013, or the "Summer Davos" in Dalian.
Li stressed that China is able to tackle difficulties and challenges in the course of its economic development, as reform can release the "biggest bonus" to boost the market's vitality.
Instead of taking short-term stimulus measures to bolster the economy, China has focused on reform polices and economic restructuring to boost growth, with these measures having some effect.
Main economic indicators such as the Purchasing Managers' Index have suggested positive signs, he said.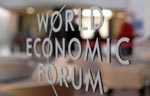 The manufacturing PMI, which reflects factory production activity, rose to 51 in August from 50.3 in July, indicating the fastest expansion of the industry in 16 months.
A reading above 50 indicates activity in the sector is accelerating, while one below 50 points to a slowdown.
Li said China will be able to achieve long-term and healthy growth based on three basic factors.
These are huge potential for domestic demand in the industrialization and urbanization process; reform to eliminate obstacles in the government management system; and improvement in growth quality and efficiency based on increasing people's incomes and consumption.
"For the government, the top priority is to ensure sufficient employment," he said.
Li said the government will adopt a long-term, proactive employment policy, accelerate the service industry and promote occupational training to keep the labor market stable.
Chris Leung, a senior economist at DBS Bank in Singapore, said China is expected to maintain stable economic growth and achieve the 7.5 percent growth target set for this year, boosted by a series of positive economic figures for trade and inflation.
"The present macroeconomic environment is much different from the late-1990s, when conventional Keynesian and monetarist approaches could be applied aptly," said Leung, who added that he believes the policy taken by the Chinese government will neither over-stimulate the economy, nor allow it to sink further.