Taiwan making waves in yuan activity: Report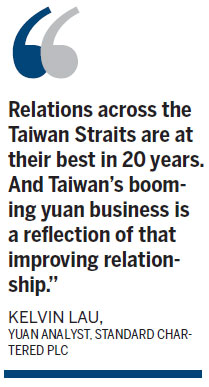 Taiwan's yuan activities exploded in the first seven months of this year, paving the way for it to stand alongside Hong Kong and Singapore to become yet another offshore center for the currency.
British bank Standard Chartered Plc said on Monday that yuan-denominated payments through Taiwan have grown 420 percent year-on-year, demonstrating Taiwan's emergence as an important yuan post. As of July, the amount of payments was almost half the size of Singapore's, up from a mere 17 percent in December 2012.
Yuan deposits in Taiwan have also taken off, amounting to 76.9 billion yuan ($12.5billion) by the end of July. Yuan deposits now account for 11.8 percent of the total non-Taiwanese currency deposits in the province, up from 6.2 percent in February, according Standard Chartered.
Taiwan's yuan business started after China's central bank designated at the end of last year Bank of China's Taipei subsidiary as the clearing bank for yuan business in Taiwan.
Standard Chartered predicts that total yuan deposits will reach 100 to 150 billion yuan by the end of this year. That's partly because local residents have continued to switch other currencies into the yuan after local banks began campaigning aggressively and offered higher rates on yuan deposits.
However, the size of the yuan-denominated bond market in Taiwan remained insignificant. Only five so-called "Formosa bonds" have been issued year-to-date, totaling 4.8 billion yuan. In comparison, issuance in Hong Kong, the biggest offshore center for yuan trading, was 213 billion yuan, according to HSBC Holdings Plc.
The authorities in Taiwan are considering steps to speed up development of the bond market. A potential regulation relaxation to ease investor access to Formosa bonds is in the works. Shorter issuance times, an easier approval process and more diversified issuers are also likely to boost interest in the market. The market has huge potential for growth given that outstanding Formosa bonds are only 6 percent of total yuan deposits. Hong Kong, in comparison, sees its Dim Sum bonds constituting 74 percent of its total yuan deposits.
A main factor that could potentially stall Taiwan's rise as a major yuan center is its political relations with the Chinese mainland. Any political snag would change the stance of Beijing's policies toward Taiwan's yuan businesses.
Kelvin Lau, a yuan analyst with Standard Chartered, said he is little worried.
"Relations across the Taiwan Straits are at their best in 20 years. And Taiwan's booming yuan business is a reflection of that improving relationship," he said. "Going forward, relations will remain smooth as the two sides' interests further blend together."
Lau recommended the mainland and Taiwan should sign a currency swap agreement in the event of the worst-case scenario in which liquidity dries up as a result of political tension.
Currency swaps are one of the major ways Beijing has adopted to promote the yuan's global use. China has signed currency swaps with nearly all if its major trading partners.