Sales of traditional gift in waning phase
There's a famous Chinese poem that's widely quoted during the Mid-Autumn Festival. Loosely translated, it says that humans experience sorrow and joy, meet and depart, as the moon waxes and wanes, on days gloomy or shiny.
But for mooncake bakers and sellers, the forecast for this year's festival, falling on Sept 19, is gloomy. Sales of the staple snack, enjoyed since ancient times, are on the wane.
Although the holiday is still more than two weeks away, sales are dropping at bakeries, restaurants and five-star hotels that used to make a windfall from selling the traditional holiday gift.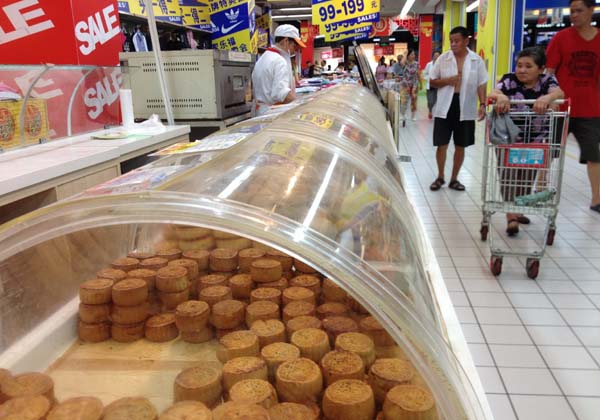 A supermarket counter offers a variety of mooncakes in Suzhou, Jiangsu province. It is estimated that 280,000 tons of mooncakes will be baked this year. [Photo/China Daily]
A salesman at a five-star hotel in Shanghai, speaking on condition of anonymity, told the Shanghai Evening Post that with the "eight rules", the good times are over.
The "eight rules", implemented by the Communist Party of China Central Committee at the end of last year, emphasize austerity and the drive for a cleaner government.
To emphasize the central government's effort to combat corruption and extravagance, on Aug 22, the CPC's disciplinary authority issued a notice strictly prohibiting the use of government funds to buy mooncake gifts during the Mid-Autumn Festival and the forthcoming National Day holiday, which runs from Oct 1 to 7.
On Wednesday, Feng En-yuan, the secretary-general of the China Cuisine Association, said at a news conference held by the Ministry of Commerce that mooncake sales are mainly targeted at the mass market, and simply packed, or even "naked mooncakes", should become the norm.