FTZ optimism keeps lifting Chinese shares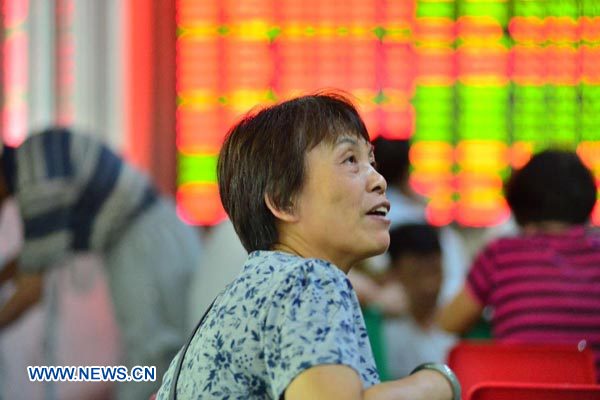 An investor views infomation at a trading hall of a securities firm in Shanghai, east China, Aug. 27, 2013. Chinese shares experienced rises on Tuesday. The benchmark Shanghai Composite Index rose by 0.34 percent, or 7.09 points, to end at 2,103.57. The Shenzhen Component Index increased 0.09 percent, or 7.20 points, to 8,341.77. [Photo/Xinhua]
BEIJING -- Chinese shares closed higher on Tuesday as prospects for Shanghai Free Trade Zone continues to boost market sentiment.
The benchmark Shanghai Composite Index rose 0.34 percent, or 7.09 points, to end at 2,103.57. The Shenzhen Component Index was up 0.09 percent, or 7.20 points, to finish at 8,341.77.
Combined turnover on the two bourses increased slightly to 216.7 billion yuan ($35.1 billion) from 214.3 billion yuan the previous trading day.
The Standing Committee of the National People's Congress, China's top legislature, on Monday deliberated suspension of some laws on foreign enterprises in free trade zones.
Most sectors posted gains, led by the shipbuilding and infrastructure industries. A total of 48 stocks jumped by the daily cap of 10 percent.
Buoyant investors saw the approval of the free trade zone scheme as a good reason to buy, speculating that the program could bring in much more foreign investment and growth opportunities.
Shanghai-based companies closely related to foreign trade and logistics continued to perform well. Shanghai Jinqiao Export Processing Zone Development Co Ltd, a property development enterprise, led the gains by jumping 10 percent to end at 10.64 yuan.
The ChiNext Index, tracking China's Nasdaq-style board of growth enterprises, rose 1.02 percent to close at a record high of 1,250.75 points, extending a rising streak to seven straight days.