Public mixed over changes to train ticket returns
China's national railway operator announced a new ticket return policy on Monday that immediately aroused public debate about the State-owned company's services.
From Sept 1, passengers will now be able to return their train tickets at any railway station on the Chinese mainland. The current policy requires return transactions only at the station where the ticket was purchased or the station where the intended train is located, according to a statement on China Railway Corp's website.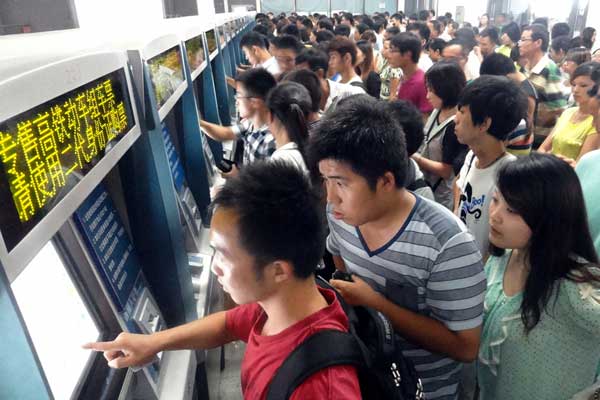 Passengers wait to buy tickets from an automatic ticket machine in Suzhou railway station, Jiangsu province, on Sunday. From Sept 1, passengers can return unwanted train tickets at any railway station on the mainland. Currently, tickets must be returned at the station where they were bought or where the passengers would board the train. Wang Jiankang for China Daily
Fees charged for returning tickets will also be changed. Passengers will be charged a rate equal to 5 percent of their ticket's price if they return the ticket 48 hours or earlier before the train's departure. A 10-percent rate will be charged if a return occurs within 48 hours leading to the departure but 24 hours before it. A return within 24 hours before departure is subject to a 20-percent rate.
Currently, stations charge a 5-percent rate on ticket returns.
The China Railway Corp said its new adjustments were created to make up for the short supply in tickets during peak holiday periods, such as Spring Festival and the National Day holidays. During these holidays, many passengers purchase a large amount of tickets with different departures and different classes of seats to find the most suitable time for their trips.
The company said people then return the tickets they don't want shortly before boarding, making it almost impossible for railway stations to resell them, the company said.
The average number of tickets returned by Chinese passengers on a daily basis from Jan 1 to July 15 was 77.6 percent higher than the same period in 2012, it said.