Big brewer aims high in a land of plenty
China targeted for wide sales drive by Carlsberg with a close eye on market
When Chinese people drink beer, very few of them drink in liters. They prefer to order it in small volumes. In a typical scenario: When four Chinese people go out to dine they buy four bottles of beer.
There is a trend of downsizing beer bottles among local breweries, said Stephen Maher, chief executive officer of Carlsberg China, therefore downsizing beer consumption and slowing down the growth of the industry.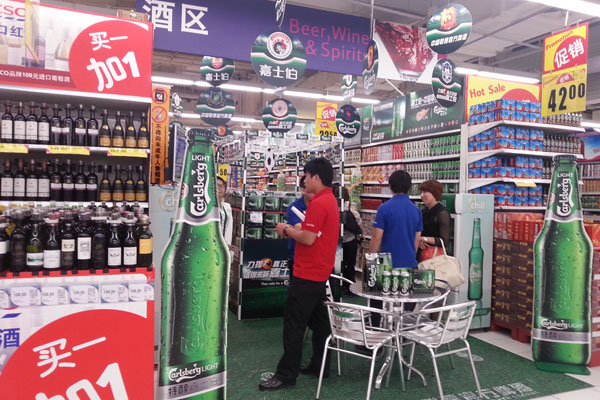 Carlsberg's products available in large packs at retailers in China. Provided to China Daily
Local beer breweries that want to raise their profitability but are resistant to increase the price are making their bottles smaller. In order to avoid price growth, they have been launching a more premium beer but downsizing the bottle, according to the Australian executive.
As a result the buyer tries to drink a better quality beer but less of it, said Maher, sitting in a conference room wearing a black T-shirt sporting the logo of one of his brands, Tuborg, which targets young music fans.
"Therefore by downsizing bottles, it's downsizing consumption," he said. "That's really driving the slowdown in the growth."
Carlsberg has brought in products that are more premium that enable them to invest back in the business. If people want to buy a can, they buy a bigger can of 500 ml, said Maher.
"If we can trade the consumers up to a 330 to a 500ml tin, we basically increase the consumption by almost 50 percent," said Maher, who has worked for Colgate-Palmolive Co and Procter & Gamble Co in emerging and developed markets prior to taking the position at Carlsberg in 2010.
Last year, Carlsberg's beer volumes in China grew 4 percent, largely driven by the strong performance of their international brands and the expanded distribution of both Carlsberg and Tuborg lagers.
Tuborg, is positioned in China as an international brand with a Chinese taste. It is lighter and about half the alcohol strength than that in Europe. Launched last April, Maher said it took them two years to get this product right for the China market. It sold rapidly in the country. In the first three months of this year, the company has already outsold the entire volume of last year.
By the end of this year, Tuborg will grow four times that of a year ago.The international band Carlsberg will grow close to 20 percent by the end of this year, because it's a much bigger business.
Secret of success
In the beer business in China, if you want to get it right, you have to get the Chinese dining right, understand it. That is the secret of success in the Chinese market according to the CEO of the Danish brewery.
Unlike very many developed markets such as Europe and America where it is common to drink at home with friends, in China most Chinese people wouldn't invite their friends home.
"As people move to cities, with their income increasing, they go out dining more — and that's the occasion most Chinese like to have a beer," he said.