The only way now is up
Elevator and escalator manufacturers ride high on the back of China's urbanization
Wang Xiuli is a lift attendant. For the past five years, all she has had to do is to sit on a wooden chair and press buttons in an elevator of a 10-story office block built in the 1990s. It's grating on her nerves and gives her headaches.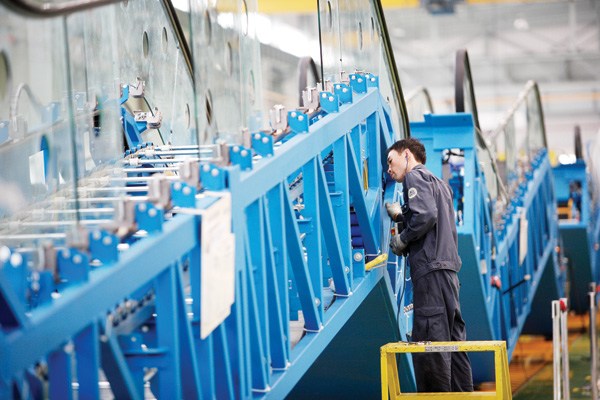 An employee of Xizi Otis Elevator Co Ltd assembles an escalator. Elevator and escalator sales have risen rapidly in China alongside urbanization. Photo / CHINA DAILY
The good and bad news (for her) is the job that pays around 1,000 yuan ($163) a month won't last long.
It is rare to see a lift attendant these days in the United States and Europe. Mostly they are retained for nostalgic customer service reasons in grand department stores and hotels.
In the third- and fourth-tier cities of China, there are still many like Wang to be seen but, as more advanced automated elevators replace the old ones and fill the thousands of new buildings springing up, their days, like their buttons, are numbered.
The upside is that many more lift personnel jobs will be created as business steadily increases for elevator and escalator manufacturers currently riding high on the continuing construction boom.
In the past decade, thanks to China's economic development and increased demand for construction projects, the elevator market in the country has grown rapidly.
Last year, compared with sluggish sales in the US and Europe, the elevator and escalator market in China clocked sales of about 529,000 units, an increase of 15.8 percent year-on-year. Although growth slowed slightly from 24 percent in 2011, China still ranked first in the world for the amount of new elevators installed, according to data from the China Elevator Association.
Li Shoulin, head of the association, says the country's ongoing urbanization plan is the driving force behind such growth.
"A large amount of infrastructure construction is needed during the urbanization process," Li says. "As a result, more and more elevators and escalators will be installed in public places such as office buildings, commercial shopping centers, airports, railway stations and residential areas."
Shanghai Mitsubishi Elevator Co Ltd, a subsidiary of the Japanese Mitsubishi Electric Elevator, has maintained double-digit growth over the past few years as China's property boom ensures robust demand for elevator installations, says a company representative. Last year, it sold more than 60,000 elevators. Orders have continued to soar.
"The market is growing much faster than we expected," he says. "Before, no one thought we would produce 60,000 units last year. Now we are trying to reach the next goal of 100,000 units."