Foreign carriers compete in 2nd-tier cities
Foreign airlines are competing fiercely for business in second-tier cities in West China, despite the lower profitability of the routes in the region.
British Airways Plc, which hasn't launched new routes in the country in seven years, will open a London-Chengdu route in September.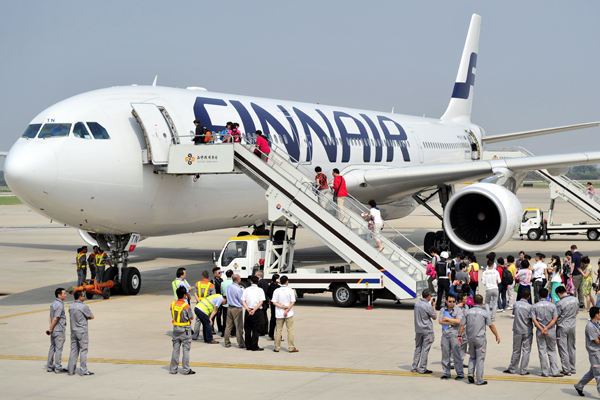 The first flight of Finnair Plc's Helsinki-Xi'an route arrived in Xi'an, capital of Shaanxi province, on June 15. YUan jingzhi / for China Daily
"We recognize that China is not just metropolises such as Beijing and Shanghai, and that other cities are also developing," said Willie Walsh, chief executive officer of IAG, BA's parent company.
On June 15, the first flight of Finnair Plc's Helsinki-Xi'an route arrived in Xi'an. The route is also the first non-stop one from the capital of Shaanxi province to a European city.
Finnair operates its Xi'an service three times a week, with Airbus 330 and 340 aircraft used on the nine-hour route.
The city of Xi'an is Finnair's fifth destination in China. The carrier has been running four flights a week between Helsinki and Chongqing — another western city in China — for a year.
"We know the western part is currently growing very fast and the economic potential in the region is great," said Pekka Vauramo, CEO of Finnair.
He said the government's go-west policy has encouraged the carrier to grab the booming business opportunities in the area.