Nation 'confident' on trade
Commerce chief says 2013 target will be achieved despite obstacles
Despite discouraging signs for both exports and imports during the first six months of 2013, Commerce Minister Gao Hucheng has expressed confidence in achieving this year's trade targets.
"Although the current situation suggests great pressures and challenges in the remaining months of the year, we maintain confidence in reaching the target of trade growth for the whole year," Gao said during an interview with the Xinhua News Agency on Wednesday.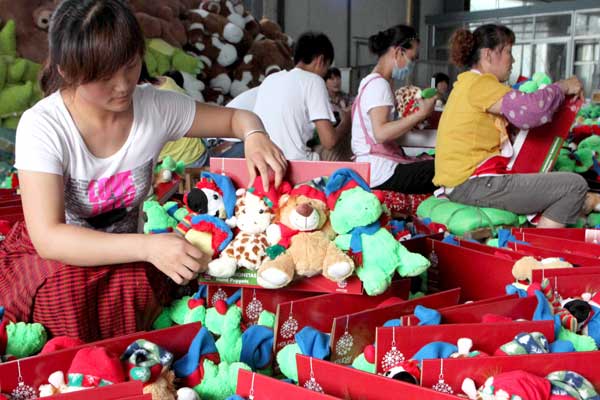 Workers make toys for export to Europe in Ganyu, Jiangsu province. China's export value in the first quarter accounted for 11.3 percent of all global trade, according to the World Trade Organization. [SI WEI / FOR CHINA DAILY]
Gao added that domestic consumption will keep growing steadily in 2013, while foreign direct investment in China will slightly outstrip that of last year.
Non-financial outbound direct investment will maintain fast growth, he said.
China's exports and imports gradually decelerated in the first half of this year. Exports in June unexpectedly declined 3.1 percent from a year earlier, the biggest fall since 2009 and also the first drop since January 2012.
Imports decreased 0.7 percent year-on-year after a drop of 0.3 percent in May, according to the General Administration of Customs.
The government in March set a target of 8 percent for foreign trade growth throughout 2013, after a gain of 6.2 percent in 2012.
Foreign trade expanded 8.6 percent year-on-year in the first half of this year.