Clamping down on corporate bribery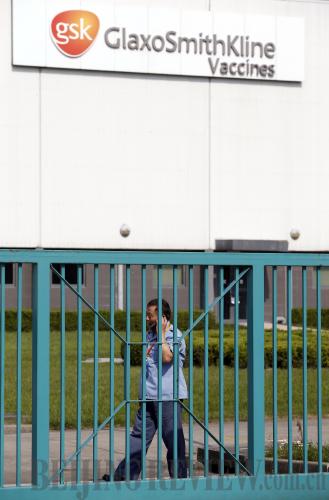 A QUIET PLACE: A security worker patrols a GlaxoSmithKline factory in Shanghai on July 16. Five days earlier, Chinese authorities announced a probe had been launched into a bribery scandal involving senior executives of the company's China branch. [Photo/CFP]
British drug maker GlaxoSmithKline (GSK) has been mired in allegations of corruption in China recently.
On July 11, the Ministry of Public Security (MPS) declared that it has investigated more than 20 employees and detained four senior Chinese executives from GSK China on allegations of offering bribes to government officials, medical industry associations and foundations, as well as hospitals and doctors to expand the company's presence in a competitive drug market and raise the price of its medicines.
Most of the bribes are thought to have been passed through travel agencies, according to the MPS. Since 2007, GSK had transferred as much as 3 billion yuan ($489.4 million) to more than 700 travel agencies and companies, the ministry said.
GSK is also suspected of committing tax-related crimes, including falsely issuing exclusive value-added tax invoices to get cash and colluding with travel agencies to write false invoices and issue fake ones to finance illegal activities.
Some GSK senior executives are also suspected of using their positions to accept kickbacks and bribes from travel agencies, the MPS said.
In recent years, so-called "commercial bribery" has become prevalent in China. Even worse, many cases involve multinational companies, according to Hu Min, a researcher with the Economic Department of the Chinese Academy of Governance.
"Some multinational companies are taking advantage of our imperfect market economy system and laws to expand their presence in China," Hu said. "We should crack down on their criminal acts just as we crack down on misconduct of Chinese companies."
Experts say the GSK case provides an opportunity for authorities to refocus their energy on commercial bribery, a pervasive strand of corruption.
GSK scandal
China's allegations against GSK stem from an investigation that kicked off in late June, when law-enforcement officials visited several GSK offices, seizing documents and detaining some employees. On July 11, the MPS publicly confirmed the investigation.
GSK pledged to "cooperate fully" with Chinese investigating authorities and said it has stopped using travel agencies that have been identified so far. According to the MPS, the case came to light in a police investigation earlier this year. During the first half of 2013, police found abnormalities with the operations of the Shanghai Linjiang International Travel Agency.
"It was only keeping contact with some pharmaceutical enterprises and hardly doing ordinary tourism business. However, its annual turnover has surprisingly surged from several million yuan at its start-up period in 2006 to about a hundred times the figure at present," said Gao Feng, an economic crimes investigator with the MPS.
According to Weng Jianyong, corporate representative of the Linjiang International Travel Agency who was also detained by police, the travel agency provided GSK's Liang Hong, Vice President and General Operations Manager of GSK China, with about 2 million yuan ($326,264) as kickbacks between 2010 and 2012. Liang is alleged to have used the travel agency to organize business conferences. Weng said that Liang would take some of the money and the rest was generally used as bribes to officials and medical professionals.