Nation on fast track to take top spot in express delivery market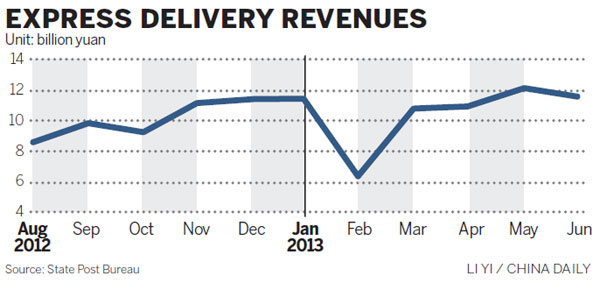 China is expected to surpass the United States this year to become the world's largest market for express deliveries, but analysts warned of rapid development that ignores quality.
Ma Junsheng, director-general of the State Post Bureau of China, said at an internal conference on July 18 that China's postal industry maintained fast, steady development in the first half. Ma attributed the trend to national economic policies and booming e-commerce.
Express delivery volumes grew more than 50 percent year-on-year in each of the past 28 months, the bureau said.
The number of packages delivered by major courier companies grew 61 percent in the first half to 3.84 billion items. Couriers' revenue grew 34.5 percent to 63 billion yuan ($10.36 billion).
Xu Yong, chief consultant for the express and logistics website cecss.com, said China will probably catch up with the United States in terms of mail and package deliveries this year.
Xu said his organization estimates 8.5 billion to 10 billion parcels will be delivered in China in 2013, compared with about 9 billion in the US.
"However, we see China's development in the express industry as 'too fast and unhealthy'. The country's express companies sacrifice profit and service quality to pursue volume," Xu said.
Chinese courier firms are making 16.4 yuan on average from every parcel, down sharply from 28.6 yuan five years ago, the website said.
"Competition in the domestic express industry is harsh. Companies' profit margins are down to about 5 percent from 30 percent a decade ago. Some of them are losing money," Xu said.
Meanwhile, delivery workers struggle with heavier workloads but low incomes, as customers complain about bad service, he said.
According to a survey conducted in March by Legal Daily, eight out of 10 respondents said they were dissatisfied with the country's express service.
Bad service and lost parcels were major problems in the industry, according to the survey.
"In addition, express companies also sometimes conducted misleading promotions, engaged in unfair competition and operated without licenses," said Liu Junhai, a professor at Renmin University of China.
It is critical for Chinese express companies to upgrade their development mode, analysts said. The industry faces uncertainty, since China's economy is decelerating and people may reduce their spending, Xu with cecss.com said.
Transport Minister Yang Chuantang said last Friday that Chinese postal and express companies have to aim high and work fast to catch up with international leaders.
"Revenue from the domestic express industry is expected to triple by 2020," he said. "But we should first improve the quality of the service."