Carrier hopes to bring nation's first seaplane service to Sansha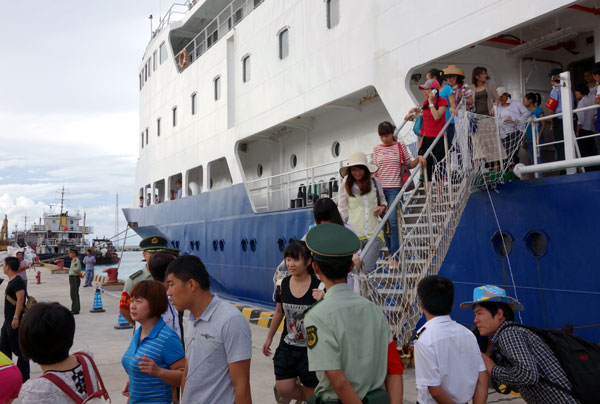 Tourists arrive at Yongxing Island in Sansha, Hainan province, on Sunday. China's youngest city, Sansha was established last July on Yongxing Island in the South China Sea and is expected to become a popular travel destination. [Photo / China Daily]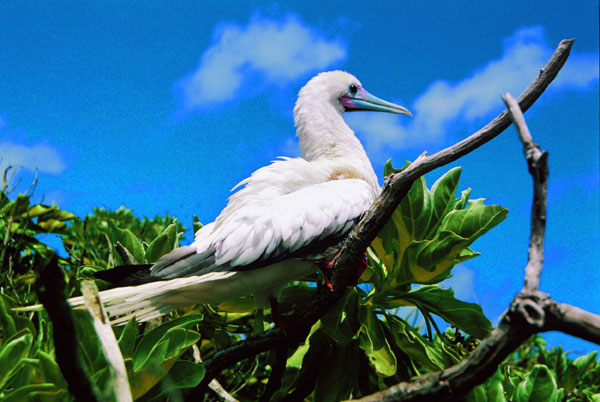 Sansha East Island is the habitat of the booby seabird. [Photo / China Daily]
In Mo Qun's eyes, Sansha, the country's youngest city, will become China's Maldives, attracting tourists for island-to-island trips in the near future.
Mo, general manager of Meiya Air Co Ltd, said the company has purchased five amphibious aircraft to help realize that dream.
Two Cessna planes, which can take 19 passengers each, are already in Sanya, and the rest will be delivered soon, he said.
"Meiya Air is planning to launch air express routes from Sanya to Sansha," Mo told China Daily on Sunday, adding that the 70-minute flight would attract tourists who are put off by the 10-hour boat trip.
"Then flights between the islands of Sansha will be our next target," he said.
However, he said the company is still waiting for government approval of its plans.
Sansha is China's youngest city, having been set up in July on Yongxing Island in the South China Sea region to administer the Xisha, Zhongsha and Nansha island groups and their surrounding waters. With a total area of 13 square kilometers and a maritime area of 2.6 million sq km, it is the smallest prefecture-level city in both population and land area.
On Friday, phase 1 of a port on Yongxing Island for civil use was completed with nine berths built, for an investment of about 340 million yuan ($55 million). A new supply ship, the Sansha No 1, will be completed in early 2014 to help transport much-needed materials to the islands.
Mo said seaplanes have an advantage in Sansha because they don't need a runway for take-off or landing and can fly about 1,500 kilometers before refueling. The distance from Sanya to Sansha is about 340 km.
Meiya Air is the country's first licensed operator authorized by the Civil Aviation Administration of China in May to offer amphibious air services.
The company will establish a branch in Sansha for the potential business opportunity there, said Mi Jianxin, Xisha project manager of Meiya Air.
Xiao Jie, the mayor of Sansha, said island-to-island trips are still a subject of discussion.
He said that, early in September, the Sansha government began to draft a plan for transportation between the islands, and it was finished recently. He did not reveal details.
Currently, no civilian planes are permitted to fly to Sansha. The Yexiang Princess Cruise and Qionghai No 3 are the only ships that can take tourists to Sansha.
In the past year, the Qionghai No 3, a supply ship that can also take passengers, sailed to Sansha 70 times, while the Yexiang Princess Cruise made about 16 voyages, ferrying a total of nearly 40,000 people, plus 7,000 metric tons of goods, according to the Sansha government.
As development of the area continues rapidly, Luo Songshan, a researcher for the Investment Research Institute of National Development and Reform Commission, warned comprehensive research is needed.
"Learning from the Maldives is a good way to make full use of the beautiful scenery, but we must adjust (the development plan) according to Sansha's situation," Luo said.
Wei Shichuan, a professor at Hainan University's College of Politics and Public Administration, said environmental protection is more important than economic development in Sansha, which means scientific research is needed before any decisions are made.