Floor on lending rates axed by PBOC
Move aimed at deepening reforms and cutting firms' financing costs
China scrapped the lower limit on bank lending rates on Friday, in a major step toward liberalizing interest rates.
The move is also aimed at cutting financing costs for businesses amid a deepening slowdown in the world's second-largest economy.
It means that China has now ended controls on lending rates.
The People's Bank of China, the central bank, said the lower limit on commercial banks' lending interest rates will be removed from Saturday.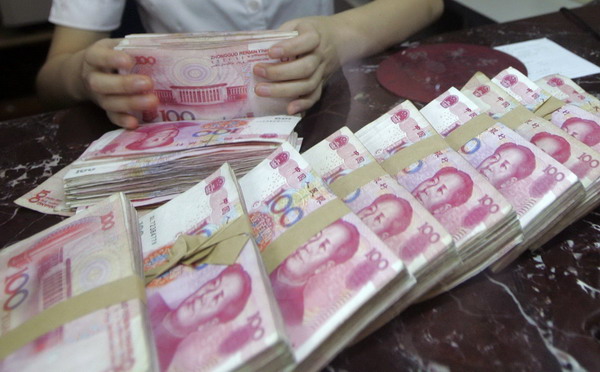 An employee counts Chinese 100 yuan banknotes at a branch of Bank of Communications in Shenyang, Liaoning province in this July 6, 2012 file picture. China's central bank announced long-awaited interest rate reforms on July 19, 2013, scrapping the previous floor on the rates that banks charge clients for loans. Picture taken July 6, 2012. [Photo/Agencies]
Previously, banks were allowed to extend loans at rates higher than 70 percent of the benchmark lending rate set by the PBOC, which has been held at 6 percent since the last reduction in July 2012.
"Financial institutions will determine the prices for loans by themselves according to commercial principles," the central bank said in a statement on its website.
It also scrapped the upper limit on lending rates among rural credit cooperatives, while leaving a floating range on individual property lending rates untouched to secure "healthy" development of the real estate market.
"After the limits on lending rates are called off ... the negotiating space between financial institutions and clients will be broadened, which will facilitate a decline in enterprises' funding costs as lenders adopt a differentiated pricing strategy," the bank said.
"Therefore, financial resources will be channeled to support the real economy and better serve economic restructuring and upgrading," it said.
Hu Bin, a senior analyst at Moody's, said: "It is a signal that the monetary authority is firmly pushing forward deregulation and will let market forces play a bigger role in allocating financial resources.
"It will be beneficial for the overall economy, but negative for commercial lenders," Hu said.
China has been trying to liberalize interest rates as it promotes reform of the financial system and allows market forces to play a bigger role in determining the price of capital.
In June 2012, it allowed banks' deposit rates to be 10 percent higher than the benchmark rates, while cutting the lower limit on lending rates to 80 percent of the benchmark. In July, it further reduced the limit on lending rates to 70 percent.