Crackdown on drug industry launched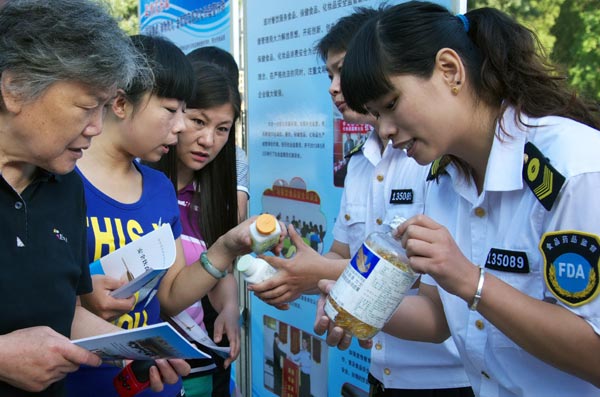 Officials from the food and drug administration and other local authorities in Xingtai, Hebei province, explain food and drug security to locals in June. [Photo/China Daily]
Unauthorized production, improper online sales and fake medicines targeted
China's top food and drug authority has launched a major crackdown on the illegal sale and production of pharmaceutical drugs on the mainland and is employing an old tactic to caution violators of the campaign: a public blacklist.
The crackdown, which began this month and will continue for half a year, mainly targets the online sale of illegal drugs and traditional Chinese medicine, Yan Jiangying, spokeswoman for the China Food and Drug Administration, said at a news conference on Wednesday.
"Those caught violating regulations and laws will be severely punished accordingly, and they will be made public for public supervision," she said, adding that a blacklist will name violators and be regularly updated on its official website.
"The campaign will help the administration establish more regulations and mechanisms and better control drug safety risks," Yan said.
Li Guoqing, director of the administration's drug and cosmetics supervision and management division, said the illegal sale of drugs is posing major challenges to the pharmaceutical industry and people's lives.
"At the moment, problems such as the online sale of fake drugs and the unlicensed retail, production and marketing of substandard drugs, as well as the improper processing of herbs (for TCM) are major challenges," Li said.
Last year, the administration partnered with the United States Food and Drug Administration and shut down 18 illegal Chinese-language websites selling counterfeit or illegal medicines and dietary supplements.
The websites, with servers based in the US, targeted Chinese consumers, including Chinese-Americans worldwide, according to previous reports.
Under the crackdown, "we'll initiate a domestic overhaul of illegal online pharmacies in early August with the Ministry of Industry and Information Technology and the Ministry of Public Security", Li said.
Currently, there are 95 government-recognized online pharmacies on the mainland, according to the China Food and Drug Administration.
Yan said the government-recognized websites protect consumers by allowing buyers to file complaints if there is an issue with a product.
The rapid development of information technology has pushed drug sales online in recent years, but it has also made it easier for counterfeit drugs to be purchased on the Internet.
Mao Zhenbin, who heads the administration's inspection department, revealed that a fake cancer treatment network busted last year in Jiangsu province also sold its products online.
"Such cases might cost lives," he said.