Room at the top for banks as margins rise
Financial sector accounts for 50% of profits of Fortune 500 China
State-owned banks have made the largest fortunes among all of China's largest companies as experts urged the financial sector to better support manufacturers struggling amid an economic downturn.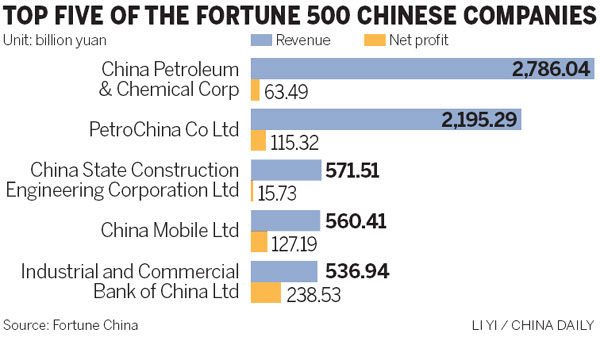 Only 26 financial institutions were among the ranks of the 500 largest companies in China by revenue, which was released by Fortune Magazine on Tuesday, yet they accounted for more than half of the profits among all the companies.
Zhou Zhanhong, acting executive editor-in-chief of the Chinese edition of the magazine, said the share of profits for the financial sector rose from 41.3 percent in 2010 to 50.2 percent in 2012.
Banks also have the highest profit margins, which are between 30 and 40 percent, according to the magazine.
The combined revenues of this year's top 500 Chinese companies stood at 26.18 trillion yuan ($4.27 trillion), up 10 percent from a year earlier.
Total profits rose 3 percent to 2.17 trillion yuan.
The "Big Four" State-owned commercial banks topped the profit ranking, led by Industrial and Commercial Bank of China Ltd, the world's largest commercial bank by market value. ICBC achieved 238.5 billion yuan in net earnings in 2012, up 15 percent.
By contrast, 46 companies on the list reported losses, compared with 21 in the previous year.
China COSCO Holdings Co dominated the table with 9.56 billion yuan of losses in 2012.
"This is a reflection of the severe situation faced by the real economy," said Luo Zhongwei, a senior researcher with the Institute of Industrial Economics under the Chinese Academy of Social Sciences.
"The booming financial sector is adding further pressure on manufacturers, who are already dealing with very slim profit margins.
"The large gap among different industries is a sign of a disordered market. As a result everyone would want to squeeze into sectors with higher profit margins," he said.
The HSBC Purchasing Managers' Index, an indicator of manufacturing activities, slowed to the lowest point in nine months in June, while official data released on Monday showed that economic growth eased further to 7.5 percent in the second quarter from the first three months.
"At this stage, China must develop its manufacturing sectors and financial sectors should be further reformed to better serve the real economy," he said.