China's fixed-asset investment up 20.1% in H1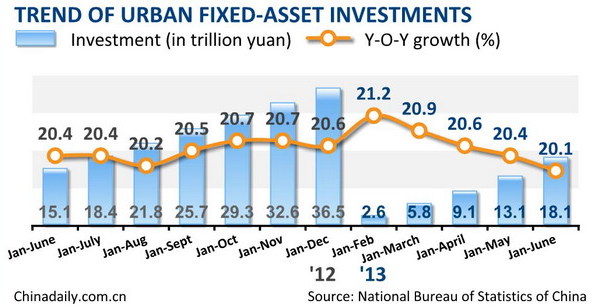 BEIJING - China's urban fixed-asset investment grew 20.1 percent year on year to 18.13 trillion yuan ($2.94 trillion) in the first half of 2013, the National Bureau of Statistics (NBS) announced on Monday.
The growth rate moderated by 0.8 percentage points compared to that in the first quarter, and was down 0.3 percentage points from the same period last year, the NBS data showed.
During the first half, investment in primary industry amounted to 388.4 billion yuan, up 33.5 percent; that in secondary industry totaled 7.8 trillion yuan, up 15.6 percent; investment in tertiary industry rose 23.5 percent to hit 9.94 trillion yuan.
Investment in China's central regions grew the fastest -- by 23.6 percent, followed by 22.7 percent in the west, and 18.7 percent in the east.
Infrastructure (excluding production and supply facilities for electricity, gas, and water) investment rose 25.3 percent to 2.73 trillion yuan in the first half, according to the data.
And investment in the nation's property sector totaled 3.68 trillion yuan, up 20.3 percent year on year. Investment growth during the period rose 3.7 percentage points year on year, up 0.1 percentage point from the first quarter.
Investment in residential housing registered an increase of 20.8 percent year on year, down 0.3 percentage points from the first quarter.
Sales of commercial housing rose 28.7 percent year on year to hit 514.33 million square meters, down 8.4 percentage points from the first quarter.
Experts attributed the deceleration of fixed-asset investment to sluggish exports, a liquidity crunch, and the transformation and upgrading of Chinese enterprises.
"Investment-driven growth can no longer be translated into the sustainable development of the Chinese economy. Instead, consumption-led economic restructuring is the government's priority," said Ma Yao, a macro-economy researcher with China Investment Consulting Corp.