Yangtze River conservation project announced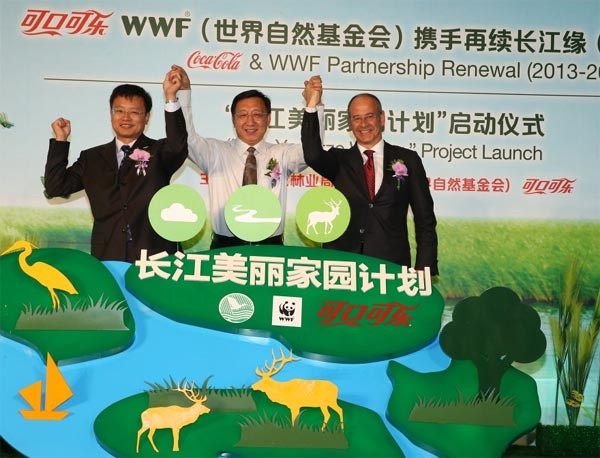 Coca-Cola China, the State Forestry Administration and the World Wildlife Fund join force to launch a water conservation project for the Yangtze River.[Photo/Chinadaily] 
A water conservation project for the Yangtze River was announced on Wednesday.
The project involves Coca-Cola China, the State Forestry Administration and the World Wildlife Fund.
The Yangtze River, which accounts for 34 percent of the fresh water resources of China, plays a critical role in China's biodiversity.
"We are very pleased to work with the State Forestry Administration and the WWF on the future of China's wetlands," said Ahmet C Bozer, president of Coca-Cola International.
"This is part of our endeavor to seek solutions that balance economic development and environmental protection."
Li Lifeng, Freshwater Program director of WWF International, said: "The wetlands in China have 2.7 trillion tons of fresh water, accounting for 96 percent of available freshwater resources in China."
Coca-Cola and the WWF have jointly initiated various freshwater conservation programs in the Yangtze River Basin since 2007.
These include a community-based water conservation model built in the Minjiang River and Jialing River watershed, and water conservation activities conducted in more than 29 protected wetland areas along the Jialing River.