Weibo users have grape expectations for Xinjiang county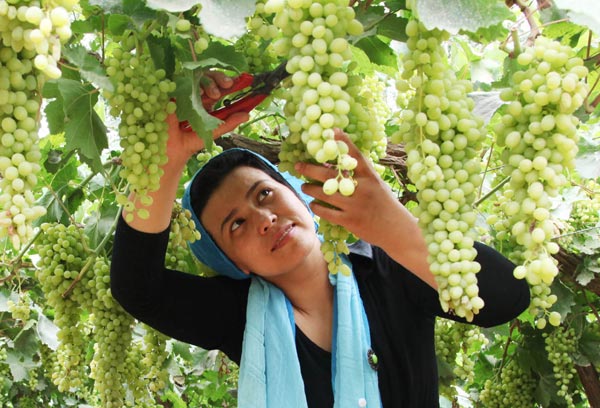 Shanshan county in the Xinjiang Uygur autonomous region is famous for its grapes. This year's sales are likely to be affected due to a recent terrorist attack in the county.  [Photo / China Daily]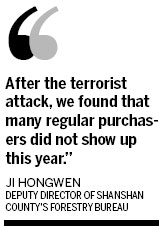 Sales in Shanshan likely to suffer this year with purchasers staying away due to safety concerns
Netizens are using Sina Weibo to promote grapes from the Xinjiang Uygur autonomous region amid concerns that farmers may be affected by a decline in sales after a deadly terrorist attack.
"Shanshan county in Turpan is famous for its grapes, and this year's harvest will soon enter the market," Ji Hongwen, deputy director of the county's forestry bureau, wrote on Sina Weibo, China's most popular micro-blogging website.
"But this year's sales may be greatly affected, as some purchasers are worried (about their safety)," he added. "Traffic and social order have returned to normal, and buyers are welcome to bring our sweet grapes to consumers outside Xinjiang."
Since posting the message, along with his mobile phone number, on Friday, Ji said he has received hundreds of calls from all over China from purchasers, wholesalers and reporters.
By Monday afternoon, the post had been forwarded more than 4,000 times.
"After the terrorist attack, we found that many regular purchasers did not show up this year although the grapes are ripening and will be picked in several days," Ji said.
On June 26, terrorists attacked police stations, stores, government buildings and a construction site in the county. Thirty five died.
Authorities have taken measures to ensure public safety, yet many visitors are staying away, Ji said.
Turpan, with its pleasant weather and abundant sunlight, is famous for its fruit and especially its grapes, which are sold nationwide.
Almost all 140,000 households in Shanshan grow grapes. With an annual output of 400,000 metric tons, grape farming accounts for around 80 percent of farmers' incomes, Ji said.
"Normally, by now, purchases from other provinces and regions would have swarmed in," he said. "But there have only been 46 purchases so far - about 30 percent less than previous years. So we are making calls to bring more purchasers in."
In past years, all refrigerators would have been ordered by now, but only 10 percent of refrigerators have been ordered as of Monday, Ji said. "We predict a huge decline in sales this year."
Xu Shengbin, a grower in the town of Lukqun, posted photos of the grapes in his garden on Sina Weibo to attract potential buyers because he's worried his regular buyers may not come this year.
"This year's grapes are bigger and look better as you can see in the photos," he posted. "There are hundreds of hectares of grapes growing in my village and you can have as many as you want."
"I think purchasers may look to other places for grapes to avoid Shanshan due to the terrorist attack," said Xu, who buys grapes from villagers and sells them to purchasers outside Xinjiang.