NBA's Dwyane Wade part of Li Ning's new game plan
By Chen Jia in San Francisco and Wang Zhuoqiong in Beijing | China Daily | Updated: 2013-07-06 09:40




National Basketball Association superstar Dwyane Wade's recent 10-day trip to China to promote the country's top sportswear outfitter, Li Ning Co Ltd, is seen as having given a lift to the troubled brand, which is seeking to return to the mainstream sportswear business.
Li Ning, which was in the red last year, recruited Wade, who has some 3.4 million fans on the micro-blogging website Sina Weibo.
China's sportswear industry has been in the doldrums after years of over-expansion, which pushed up inventories and crushed profits.
Coupled with the global slowdown and rising competition from international sports brands and fast fashion brands, Li Ning had its first loss last year since 2004, said Zhu Qinghua, a researcher with Shenzhen-based CIConsulting.
Revenue fell 24.5 percent to 6.74 billion yuan ($1.09 billion), while gross profit slid 36.9 percent to 2.6 billion yuan.
Aiming to move back into the black, the brand pared its retail network. Its number of stores fell to 6,434 last year, down 1,821 outlets.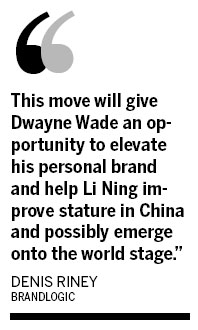 The company has 5.4 percent of China's sportswear market. According to data from Euromonitor International, Nike Inc has about 12 percent of China's sportswear market and Adidas AG about 11 percent.
Li Ning's current branding strategy is to return to its sports roots and rebuild its influence in mainstream sports such as basketball.
The participation of the NBA superstar will help the brand to communicate with audiences, said Zhang Qing, founder of sports marketing and consulting company Key-Sports.
The company has increased its involvement with basketball, which has the highest participation rate among young people, through strategic sponsorships with the China Basketball Association, the most popular basketball league in China, and its tie-up with Wade.
Thanks to ethnic Chinese hoops stars Jeremy Lin and former Houston Rocket Yao Ming, basketball's popularity has been growing steadily in China. After two decades of NBA broadcasts in the mainland, many stars such as Wade have become household names and can have a big impact on Chinese consumers.
"Only a few NBA athletes have global appeal - Michael Jordan being the most prominent," Brandlogic's Denis Riney said.
"This move will give Dwayne Wade an opportunity to elevate his personal brand and help Li Ning improve its stature in China and possibly emerge onto the world stage."
Unlike some other high-profile NBA athletes, Wade has largely remained free from scandal throughout his playing career, Riney said.
"He is a positive role model who will be attractive to Chinese consumers, who have a long love affair with the game of basketball."
Branding consultant Ed Roach said Li Ning is turning into an American sports icon so it can start being seen as a world brand and not just a regional one.
"They've done their homework in China to determine if Wade would be a great fit," Roach said. "It's a good strategy, so long as Wade's values match Li Ning's."
Now the company needs to weave a brand story around the relationship and figure out how to include its audience in the mix, he added.
Over the past few years, Li Ning has been struggling to transform its image from a "sports product manufacturer" to a "lifestyle brand" - a migration many of the current clothing and sportswear manufactures in China have already gone through.
It is increasingly evident that price alone can't build consumer loyalty, said Martin Lindstrom, a Europe-based branding expert.
He said the key challenge Li Ning faces is the classic manufacturing syndrome, where a brand becomes a mere logo that has no emotional bond with consumers.