Solar wars threaten climate fight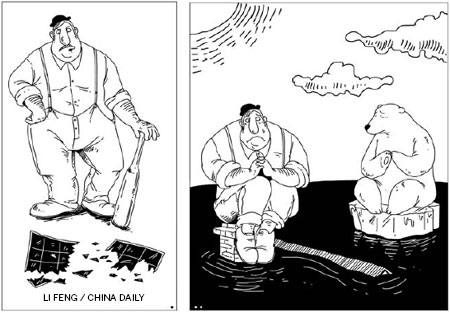 Amid the gloomy news of the worsening impact of climate change is a bright spark: the dramatic fall in the cost of solar energy. This source of clean and renewable energy could help power the world without emitting greenhouse gases.
Solar energy has traditionally been more expensive to use than carbon-intensive coal or oil. But in recent years solar power has become much cheaper, and energy experts say its cost could match that of conventional fuels in the next few years in some areas.
Solar cell prices have fallen from $76 per watt in 1977 and about $10 in 1987 to just 74 US cents in 2013. Between 2006 and 2011, Chinese cell prices fell 80 percent from $4.50 per watt to 90 cents per watt. Among the reasons for this fall are a drop in the price of the main raw material, polysilicon (because of oversupply), increasing efficiency of solar cells, improvement in manufacturing technology, economies of scale and intense competition.
The use of solar energy has shot up with the fall in cost. The global installed capacity of solar energy jumped by 28.4 giga-watt (1 giga-watt being to 1 billion watts) in 2012 to 89.5 GW. And the 100 GW milestone is expected to be crossed this year.
All this is good news for the fight against climate change. Now comes the bad news. The number of solar panel manufacturers has increased with the growing global demand for solar energy. The competition is so fierce that many companies face closure. Even Suntech, China's biggest solar energy company, is in serious trouble.
But China has even bigger problems. The US government, receiving complaints from American solar panel manufacturers, has imposed high anti-dumping tariffs on Chinese imports. And the European Commission plans to impose tariffs averaging 47 percent on Chinese solar products, which it claims are priced below cost.
China is taking these threats seriously. Premier Li Keqiang, during his visit to Europe last week, took up the issue with European leaders. He discussed the trade dispute with European officials again on Monday. Senior trade officials say China will retaliate, which means a full-scale trade war is imminent.
Although in a surprise turn of events, Germany and 16 other European Union states told the European Commission that they are against its move, on Tuesday the European Commission has announced it is imposing temporary anti-dumping levies on Chinese solar panel imports with initial duties set at 11. 8 percent.
So the solar wars between China and the EU and between China and the United States are likely to continue. This is a pity, because commercial interests of the countries are undermining the rapid progress of the solar energy sector and the fight against climate change.