Employers struggle to find talent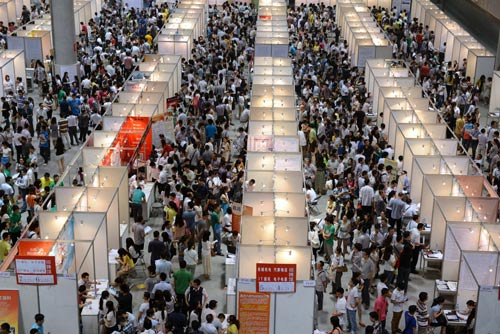 Students and graduates attend a job fair in Chongqing. According to McKinsey research, in 2020, China will have about 24 million fewer high-skilled workers - those with university degrees or advanced vocational training - than it needs. [Zhong Xin / For China Daily]
Human resources | Li-Kai Chen, Mona Mourshed, and Andrew Grant
Shortfall in skilled workers may threaten future growth, McKinsey says
Wu Hao doesn't think much of China's young people. Even college graduates, the Hebei factory manager says, don't have basic skills. "Smiling and shaking hands: I have to teach them this," he complains. "I thought it was cute at first, but it's really not funny."
Mr. Wu is hardly alone in thinking it's hard to find good help. In 2013, more than a third of employers in China surveyed said they struggled to recruit skilled workers. As China evolves from being the workshop of the world to, perhaps, being a services powerhouse, it will need more high-skilled workers. And it looks likely to run short.
According to new McKinsey research, in 2020, China will have about 24 million fewer high-skilled workers - those with university degrees or advanced vocational training - than it needs. If China does not bridge the gap, the costs, in the form of lower productivity and lost opportunities, could be more than $250 billion, which is about 2.3 percent of the country's GDP.
Two mismatches are contributing to this problem.
One is geographic. Major cities like Beijing and Shanghai draw in ambitious young people from around the country and thus have more high-skilled labor than they can use; mid-sized and smaller cities don't have nearly enough. This mismatch is particularly acute when one considers where future growth is likely to come as the character of China's urbanization process changes. Specifically, in the next two decades, most growth will take place outside the top 40 cities.
The other is between what employers want from graduates and what they are getting. Surveys consistently show that employers are not satisfied with the skills of their new tertiary hires, whether academic or vocational. The main complaints, according to McKinsey research - and a wealth of anecdotal evidence - are: lack of technical training, inadequate English, and deficient soft skills, such as the ability to work in teams, independent thinking, and innovative flair.