Economic transformation bears fruit in Guizhou
Province makes full use of natural resources, and maintains ecosystem, as Yang Wanli and Yang Jun report in Guiyang.
Italy is famous for many things - pasta, fine wines, stylish clothing, stunning architecture and stylish clothing being just a few.
However, many people are unaware that the country is also the world's largest producer of kiwi fruit, surpassing even New Zealand, the country that the fruit is most often associated with. The small town of Campoverde produces more than 400,000 metric tons of kiwis annually, earning millions of dollars for local farmers.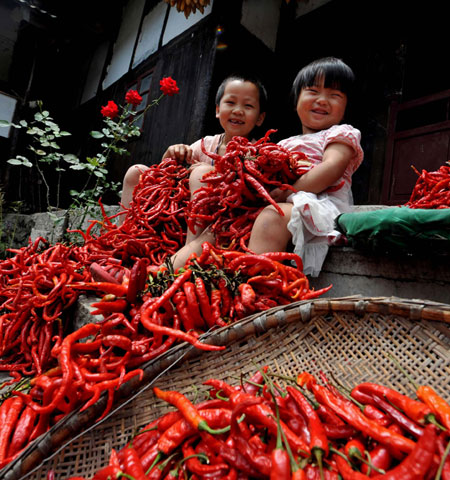 Hot pepper is one of the key agriculture products in Xiuwen county, Guizhou province. Yang Ying / Xinhua
Thousands of kilometers from Campoverde, in Pingtan, a village in Guizhou province, Shi Kaiyan is busy taking care of her kiwis. Like many farmers in the area around Xiuwen county, the 38-year-old is hoping to emulate the success of her Italian counterparts and improve living standards in this rural community.
To that end, an official from the county's agriculture department said there will be 14,000 hectares of kiwi orchards by 2017, producing 400,000 tons of the fruit every year. Given those figures, output in this little-known backwater will equal that of Campoverde in four years.
Shi, elected village secretary because of her business experience, decided to close her snack bar in 2008 and become the first local resident to try her hand at growing kiwis.
"It's an attractive business, much better than growing rice and vegetables," she said. However, farming is a challenging occupation in Guizhou, where more than 90 percent of cultivatable land is situated in highly mountainous areas. Having taken the step of inviting experts to test the local soil and identify the most suitable crops for the area, she opted for kiwis.
It's now the season for pollination. Shi's roughly 1.3 hectares of orchards are swarming with dozens of workers at this time of year. Butterflies and bees are rarely seen on the farm, despite the profusion of kiwi flowers in full bloom. Flowers of the small, furry-skinned fruit have almost no fragrance, meaning the usual agents of pollination ignore them. Artificial pollination is a necessity and two rounds of fertilization every year require plenty of hands on deck.
Each worker is paid 80 yuan ($13) per day, which is not a bad wage in a province where most farm laborers earn just $814 a year on average.
"Most of them are from border counties," said Shi, who can earn as much as $32,500 a year from her fruit enterprise.