Restoring faith in the stock market essential to economy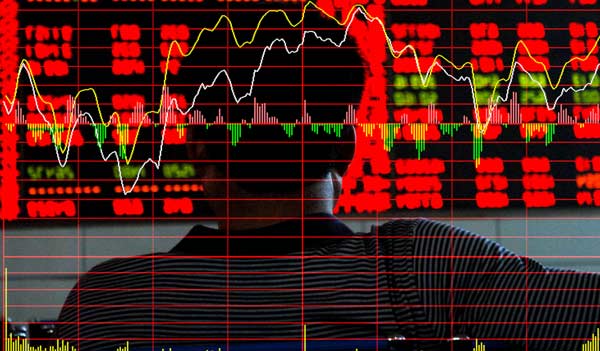 The stock market has failed to yield much of a return for many investors for the last five years, even though the Chinese economy came out almost unscathed from the financial crisis in 2008 and 2009 in the West and continued to lead global economic growth. [Photo/Provided to China Daily]
The stock market should be a place to realize the Chinese dream and accumulate wealth by sharing in the nation's development, said economist Liu Jipeng.
A long-time champion for capital market reform, Liu said he is encouraged by the recent promise by Xiao Gang, the newly appointed chairman of the China Securities Regulatory Commission, that the stock market exists to serve the aspirations of the population - a political slogan emphasized by President Xi Jinping.
But effective reforms must be carried out by the commission, Liu said, to help entrepreneurs and good companies achieve their goals and generate healthy returns for their investors.
At least, the capital market should not be, as small shareholders complain, a place to kill people's dream. Some Internet reviews even went so far as to say the Chinese stock market is not a place for the Chinese dream but one for a Chinese nightmare.
It is considered by many to be absurd that China's stock market, while serving the second largest economy in the world, has performed poorly in recent years, he argued.
The stock market has failed to yield much of a return for many investors for the last five years, even though the Chinese economy came out almost unscathed in the financial crisis in 2008 and 2009 in the West and continued to lead global economic growth.
A root cause is the market's poor regulation, its rules and practices that dampen competition rather than reward competitors and favor special interests to manipulate share prices rather than protect investors, especially small shareholders.
China's stock market is therefore at a crossroads. With the National People's Congress elected in March, a new government and a new chairman were appointed to head the China Securities Regulatory Commission so "it is high time for a change", Liu said.
China's stock market reform can also render timely support to the central government on the macroeconomic level, argued Liu, who is a frequent commentator on China's stock market policies and also director of the capital research center of the China University of Political Science and Law.
Given the effective ban on IPOs since the middle of last year and with hundreds of companies waiting in line to get approval for a new issue of shares, the Chinese stock market is not fully functional at present.
Companies have to resort to banks and other money lenders when they need to refinance themselves, exerting an enormous demand for an increase in credit supply. But, almost inevitably, too much and too fast an increase in money supply leads to inflation.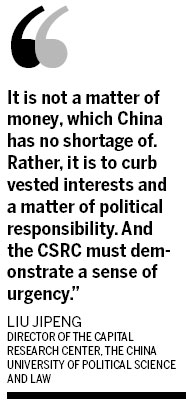 Letting some companies, especially the more competitive ones, raise capital from the stock market can help the economy avoid such a helpless reliance on credit for reinvestment. So a robust stock market can help the government control the overall size of money, Liu said.
There is also the likelihood that it can generate money for individual investors to launch small business ventures.
It does not require rocket science to figure out how to re-boot the Chinese stock market, he added. One or two new rules, so long as they are competition-friendly, will help the commission rebuild investor confidence.
One thing that can produce an almost immediate effect is to set a limit on the percentage of all equity shares that the majority shareholder, usually a single entity in China, may hold when a company applies for commission approval for listing. "Say 33 percent," he said. "Or any figure below 40 percent."
Other countries may not need such a limit. But it is necessary in China because many companies either have a background in government or are under the de facto control of one family.
A second need is for the commission to set a limit on the majority shareholder's selling of stock. It must be a long process - to guarantee the majority shareholder's commitment to the company, accompanied by strict information disclosure - and it must meet a pre-determined target selling price.
This proposed new rule can prevent the majority shareholder from selling its holdings immediately after its initial public offering to make money while driving down the share price and hurting other investors.
Anything done to prevent the majority shareholder from using the public capital market to generate personal money rather than helping the company will help the commission to restore investors' respect and their confidence in the market.
"It is not a matter of money, which China has no shortage of," Liu said. "Rather, it is to curb vested interests and a matter of political responsibility. And the CSRC must demonstrate a sense of urgency."