Drug firms 'need to consolidate'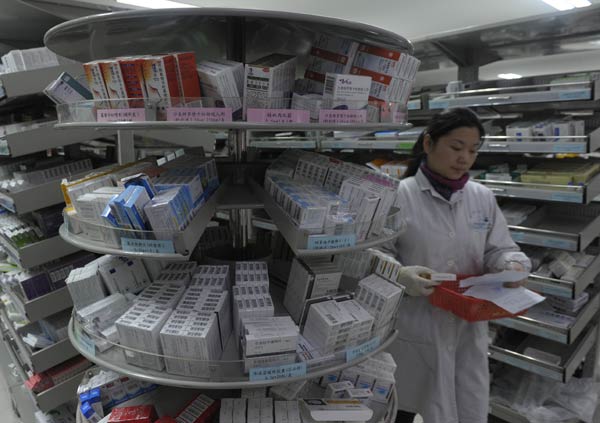 A pharmacist at a hospital pharmacy in Nanjing, Jiangsu province. In 2012, Alliance Boots announced it was buying a 12 percent stake in Nanjing Pharmaceutical Co for about $91 million. Nanjing Pharmaceutical is China's fifth-largest pharmaceutical wholesaler. [Photo/Provided to China Daily]
Sector is too 'fragmented' and threatened by businesses in foreign countries
Consolidation and integration should be the top priority for China's pharmaceutical distribution sector, given the current fragmentation of the market and domestic and foreign giants' aggressive expansion initiatives, according to a report by international services firm KPMG.
During 2011 and 2012, China saw 56 deals in the pharmaceutical distribution sector - a sensational figure compared with 34 in the United States, 18 in Japan and five in Germany.
Over this period, 43 of the 56 deals in China had a total transaction volume of $2.8 billion, much lower than the size of deals in the United States where the combined transition volume of 19 deals among its 34 reached $6.6 billion.
The significant differences were mainly attributed to the fragmented China market. The distribution industry is headed for inevitable consolidation to deal with this high level of fragmentation, encouraged by government support and the aspiration of companies for self-development, said Norbert Meyring, head of KPMG Life Science in China and Asia-Pacific.
"Efforts will go into building a stronger distribution network and strengthening key enterprises to the standards of leading international rivals," he said.
Consolidation will start from the wholesale sector with the emergence of mega-sized distributors. As Chinese M&A trends indicate, large-sized State-owned enterprises, which are keen to capitalize on their networks, are leading the M&A boom.
Sinopharm Group Co is the clear front-runner and has around 13 percent of the market share. The SOE has established national coverage, with a large proportion of its sales carried out through second-tier distributors. In January 2011 it announced the acquisition of 60 percent of Hebei-based Shijiazhuang Lerentang Pharmaceutical Co, together with the distribution business and four subsidiaries of Lerentang Pharmaceutical Group, for 1.3 billion yuan ($210 million).
As the top pharmaceutical distributor with a market share of approximately 30 percent in Hebei, Lerentang's distribution networks cover more than 3,000 customers in the province, including key hospitals, township hospitals and healthcare centers, while the company is still working to increase its scale by collaborating with more than 2,000 drug producers in China.
Later in 2011, Sinopharm announced a plan to use funds raised from bonds of $309 million and shares of $436 million to purchase retail and distribution businesses in smaller Chinese cities.

Like SOEs, foreign investors are also eager to entrench themselves in this distribution network. Alliance Boots GmbH, the owner of Europe's largest pharmacy chain, has an extremely ambitious expansion plan in the country.
In 2012, Alliance Boots announced it was buying a 12 percent stake in Nanjing Pharmaceutical Co for about $91 million. Nanjing Pharmaceutical is China's fifth-largest pharmaceutical wholesaler with distribution centers in 12 cities across eight provinces and one autonomous region.
On completion of the deal, Alliance Boots will become the second-largest shareholder in the company with board and operational management representation. The largest shareholder is Nanjing Pharmaceutical Group Ltd.
In 2007, Alliance Boots formed a 50-50 joint venture with Guangzhou Pharmaceuticals Corp, the third-largest pharmaceutical wholesaler under the listed State-owned Guangzhou Pharmaceutical Co in China. Guangzhou Pharmaceutical held a strong position in its home province of Guangdong with a 16 percent market share and 3 percent nationwide share at the time.
On completion of the transaction, the joint venture was expected to operate 29 retail pharmacies, this being the maximum permitted under the regulations for a 50-50 foreign-invested joint venture at the time. The total transaction size was around 38million pounds ($58.06 million).
Stefano Pessina, executive deputy chairman of Alliance Boots, with responsibility for strategy and M&As, said this joint venture brought together Guangzhou Pharmaceutical's strong local management and Alliance Boots' extensive experience in running pharmaceutical wholesaling businesses. With rapid expansion of the Chinese healthcare and life sciences market, further consolidation opportunities may arise.
With the help of these two deals and its partners, Alliance Boots now has a market share of around 4 percent in China's pharmaceutical distribution market. The deals further strengthen the company's ties with the Chinese government and regulators. Backed by its current position in China, Alliance Boots is now eyeing 20 to 30 percent of the Chinese pharmaceutical distribution market.
Standing apart from SOEs and foreigners is Jointown Pharmaceutical Group. It's a leading privately owned Chinese distributor that achieved phenomenal success through its wholesaling and delivery business in lower-tier healthcare institutions and distributors such as town healthcare centers, village clinics, drug stores and secondary distributors.
Within just 10 years, the company forced its way into the ranks of the top distributors, competing with State-owned majors at every level - from introducing foreign investment and getting listed to establishing a nationwide delivery network.
As part of a deliberate strategy, the company does not pursue large mergers. In 2010, Jointown expanded its network in Sichuan province via several joint ventures, acquisitions and collaborations with local distributors.
The overall transaction size, however, was less than 100 million yuan. In addition, the company has also been strengthening its retailing force in recent years. Its acquisition of drug chain operator Henan Xinglin Pharmacy Co is an indication of its range of activities.
"Leading Chinese and foreign distributors will accelerate their national network layouts in the near future. An increasing number of inbound and domestic deals will push forward the integration and consolidation process," said Meyring. "But going overseas, even when supported by favorable government policies, still remains a long-term goal for Chinese players."