Britain delivers visas pledge to woo Chinese tour groups
By Cecily Liu and Zhang Chunyan in London and Wang Zhuoqiong in Beijing | China Daily | Updated: 2013-05-16 07:55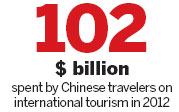 The UK said on Wednesday it will work with Chinese tour operators to make the application process for a British visa easier for group visitors.
Immigration Minister Mark Harper said details of how to achieve this have yet to be decided.
"We would sit down with (Chinese tour operators) to say, 'How can we make this easier and more cost effective for you?'" Harper said.
The pledge came after Britain confirmed it will not incorporate its tourism visa application process for Chinese visitors with that for Schengen Area countries.
The Schengen Area is a group of 26 European countries that have abolished passport and immigration controls at their common borders. It functions as a single country for international travel purposes, with a common visa policy.
Harper said one aspect of the issue is to explore how to incorporate biometric scans needed to apply for British tourism visas with those of the Schengen Area.
He said one option could be for staff members at British visa processing centers to visit Chinese tour operators and collect the biometric details there.
"Or it might be possible to look at which companies Schengen countries are going to use to deliver biometrics, and it may be that we find the same companies deliver both services."
Harper said such an arrangement would require incorporating legislation and data protection requirements for Britain and the Schengen Area into one comprehensive system, which is hard to achieve. He said seeking cooperation from European governments would also be an issue.
Harper's response follows continued lobbying by British retail and hospitality groups to attract Chinese tourists, who claim the UK is losing them to Schengen countries, because it requires a separate visa.
They have suggested the possibility of setting up a process for Chinese tourists to make one joint application for UK and Schengen visas.
According to British government data, France currently receives 25 to 50 percent more Chinese tourists than Britain.
Julia Carrick, chief executive of Walpole, a consortium of luxury brands, said Chinese tour operators do not like making two separate applications for their customers to visit Britain and Schengen countries, and often exclude Britain from their package tours.
"We hope there will be a way to allow the British and Schengen visa application processes to work closer together, so that it's easier for Chinese visitors," she said.
Wang Xin, a 25-year-old in Beijing, decided to stop applying for a UK visa because it took so much time.