ZTE, Huawei global market rankings fall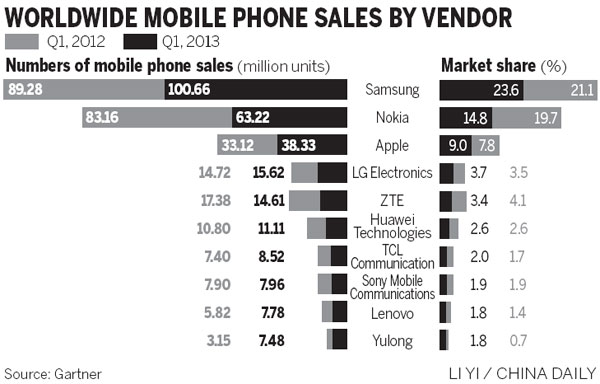 Chinese telecom giants ZTE Corp and Huawei Technologies Co Ltd saw their rankings in the global mobile phone market fall in the first quarter, according to the latest report from Gartner Inc.
ZTE slipped one place year-on-year to become the fifth-largest mobile phone vendor globally in the quarter ended March. The company shipped 14.6 million mobile phones in the first three months, from 17.4 million in the same period last year, Gartner said.
ZTE's share of the global mobile phone market declined to 3.4 percent, from 4.1 percent a year earlier. South Korea-based LG Electronics overtook ZTE in the first quarter to reach fourth place.
Samsung Electronics Co, Nokia and Apple Inc occupied the top three spots.
"ZTE had a weak performance, failing to grow its smartphone sales, selling 7.9 million smartphones in the first quarter, a 5.1 percent decline from the fourth quarter of 2012," the Gartner report said.
ZTE spokesman Dai Shu said on Wednesday that ZTE's mobile phone sales were still on track.
"There are always some seasonal factors that influence quarterly performance. But ZTE's mobile business is so far so good," he said.
In February, He Shiyou, executive vice-president of ZTE, said the company aims to increase its smartphone business revenue by 30 percent this year. "We are very confident of fulfilling that goal," Dai said.
Fellow Chinese company Huawei remained the world's sixth-largest mobile phone maker in the first quarter, shipping 11.1 million mobile phones. However, the company's ranking in the smartphone sector dropped to fourth place, from third a year earlier.
Huawei shipped 9.33 million smartphones during the period, expanding its market share from 3.6 percent to 4.4 percent year-on-year. But Huawei's pace lagged behind LG Electronics, which raised its market share to 4.8 percent, from 3.4 percent a year ago.
Huawei Device, the mobile terminal branch owned by Huawei, has experienced some turbulence recently in reorganizing its high-level management.
Wan Biao, chief executive officer of Huawei Device, left the post in early May and took charge of Huawei's business in Russia.
Analysts said Wan's departure may have partly been due to Huawei's failure to meet its smartphone sales target last year. The company aimed to ship 60 million smartphones in 2012, but the actual figure was just 32 million.
Global mobile phone sales to end users totaled nearly 426 million units in the first quarter of 2013, up 0.7 percent from the same period last year, according to Gartner.
Asia-Pacific was the only region to see growth in mobile phone sales this quarter, up 6.4 percent year-on-year.
"More than 226 million mobile phones were sold to end users in Asia-Pacific in the first quarter, which helped the region increase its global share of mobile phones to 53.1 percent year-on-year," said Anshul Gupta, principal research analyst at Gartner.
In addition, China saw its mobile phone sales increase 7.5 percent in the first quarter of 2013, and its sales represented 25.7 percent of global mobile phone sales, up nearly 2 percentage points year-on-year, Gupta said.
Worldwide smartphone sales totaled 210 million units in the first quarter, up 42.9 percent from the first quarter of 2012.