Shanghai eyes bigger role in art auction market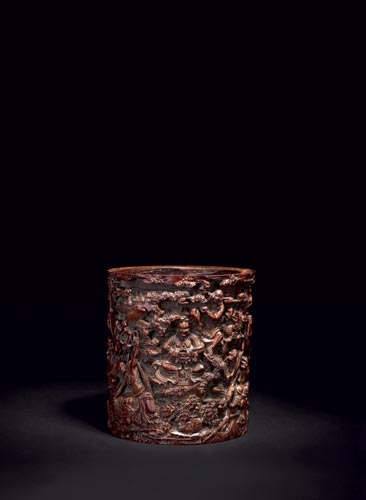 A bamboo-carved art work to be auctioned by Shanghai Auction Co Ltd on May 31 2013 in Shanghai. [Provided to chinadaily.com.cn] 
Shanghai hopes to grab a larger share of China's art auction market as it has welcomed in Christie's International auction house and has sped up developing its local auction houses.
Shanghai Auction Co Ltd has started a strategic move to make art auctions its core business, Lin Yiping, general manager of this auction house said in Beijing in a press briefing for its spring art auction. Shanghai Auction started business in 1992 by putting 12 pager numbers into an auction and later tapped into auctions for property rights, automobiles and other things. The company has also auctioned peak-hour advertisements for China Central Television for 16 years.
For the spring auction, the company will put up for sale 1,000 art works in Shanghai on May 31 and June 1, including Chinese paintings, calligraphy, snuff bottles, jewelry and art works of contemporary masters.
Shanghai Auction will also have a special auction of 100 porcelain works that were made between the 1950s and early 1990s by 14 state-owned porcelain factories in the city of Jingdezhen, Jiangxi province.
Meng Xuehai said that although there are a few auctions for such works from time to time, these porcelain works are undervalued. There have been no more such products produced due to the bankruptcy or privatization of these state-owned factories in the 1990s, Meng explained. These art works were mainly for exports and were of good quality, he added.
Meng is in charge of "1st Auction Hall", a television program co-founded by China Business Daily Television and Shanghai Auction hall.