Grade A office rents under pressure after years of rises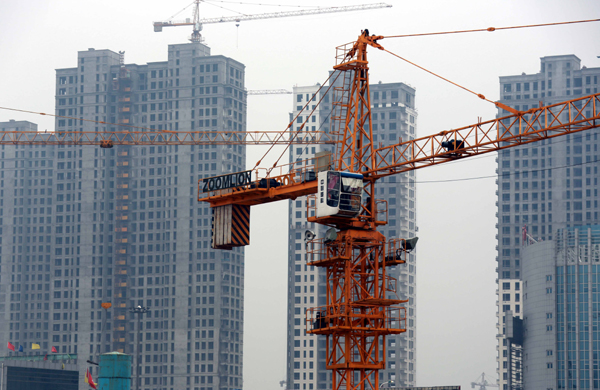 Rents in the office market edged down 2 percent quarter-on-quarter in the first quarter to 337 yuan ($54) per square meter per month, the first decline since the third quarter of 2009, according to Jones Lang LaSalle. [Photo/Provided to China Daily]

High base, weakening demand and oversupply prompt development
China's grade A office rent is under pressure this year because of its already high base, weakening demand and rising supply in some cities, industry analysts said.
Beijing grade A office rents edged downward for the first time in three years, as demand slowed. The decline follows rises for more than three years, according to a report by Jones Lang LaSalle (JLL).
Rents in the overall market edged down 2 percent quarter-on-quarter in the first quarter to 337 yuan ($54) per square meter per month, the first decline since the third quarter of 2009, the report showed.
The downtick was more pronounced in the central business district (down 3.7 percent quarter-on-quarter), where resistance to high rents was more acute, although mild rental growth remained in place in submarkets where upcoming lease expiries are less of a concern.
"While business interest in Beijing remains strong, some tenants are reviewing their office space requirements given the huge rental growth witnessed in recent years," said Eric Hirsch, head of markets at JLL in Beijing.
"Many landlords are recognizing this and are being more prudent as a result. We expect leasing demand will remain thin and the chances of seeing further rental compression in the next one to two quarters are high," Hirsch added.
According to international real estate advisory company Savills, although the city-wide vacancy rate is expected to level out at 3 percent by the end of 2013, the lowest level in the past 15 years, rents could fall by roughly 2 to 3 percent, as tenants continue to relocate to non-prime locations or are forced to squeeze their office space in prime locations because of deteriorating affordability, making it hard for landlords to apply rental increments.
Grade A office rents in Beijing reached 318.8 yuan per sq m per month by the end of the fist quarter, with quarter-on-quarter growth constrained to just 0.4 percent, as landlords offered more incentives to attract tenants in the face of slowing demand, the report from Savills showed.
Overall rents in Shanghai's grade A office market remained flat at 8.9 yuan per sq m per day this quarter. And Pudong's grade A office rents exceeded Puxi rents for the first time since the third quarter of 2010, according to JLL.
Rents continued to grow steadily in Pudong this quarter, rising by 1.3 percent quarter-on-quarter. Meanwhile, in Puxi, rents declined slightly by 0.3 percent as the majority of landlords held rents flat in spite of weak demand and new supply which reached the market this quarter, the report showed.
Seasonality combined with slowly improving sentiment about the broader Chinese economy contributed to an increase in the number of new inquiries in the office market following the Chinese New Year holiday.
Multinational companies in Puxi appear to be more optimistic about the market, although at present leasing volume remains persistently low as it takes time for inquiries to become deals. Retailers and pharmaceutical tenants remain the two sectors that have maintained the strongest level of demand.
In Pudong, financial services remained active, although available expansion space in the core central business district was limited. As a result, some tenants have looked to non-core areas to satisfy space requirements.
Pan Shiyi, chairman of property developer SOHO China, said there is no bubble in the commercial property market in Beijing and Shanghai yet. However, there are rising risks in second-tier cities with high vacancy rates, such as Chongqing and Xi'an.
He added more efforts should be made to improve the internal quality of grade A office buildings, such as strengthening internal air treatment, given the air pollution.
According to research by commercial real estate services firm CBRE, construction of 40.8 million square meters of office space will be completed in the next four years across China's 14 major cities, fueling worries about oversupply in some second-tier cities.
Between 2013 and 2016, the total stock of quality office space in the 14 major cities will increase 80 percent, or 40.8 million sq m, the CBRE report showed. Although future supply might be less than expected because the projects usually suffer delays during the construction stage, a number of second-tier cities, such as Tianjin, Shenyang and Chongqing, are likely to see supply significantly outpace demand, said Chen Zhongwei, head of research at CBRE China.
A number of second-tier cities will experience peak office completion and delivery of projects in the next few quarters, a development expected to continue to push up vacancy rates. As a result, rent performance will be under pressure and some projects may push back their delivery dates.