Game on for mobile game developers as demand grows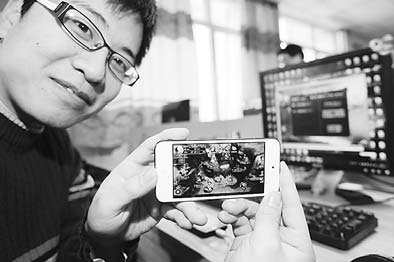 A staff member of Tianjin Pictograph Technology Co shows one of the company's mobile phone games. [Photo/China Daily]
On a crowded train in Beijing's subway, a young woman is leaning against the wall and playing Temple Run on her smartphone. A man beside her is blasting zombies on his tablet computer, while nearby another's thumbs are frantically negotiating an avatar through a digital assault course.
It seems that half of the carriage is engrossed in their mobile devices. On their daily commute, many young Chinese play video games to kill time - and with the rapid advancement of technology, there will be more.
No surprise then that leading developers of online computer games such as Tencent, Sohu and Kingsoft have started to produce mobile games this year.
In 2012, China's mobile game users numbered more than 200 million, surpassing the 180 million desktop computer gamers.
"We are expecting a big market for mobile games this year," said Angel Liu, general manager of Tianjin Pictograph Technology Co Ltd, one of the fastest-growing mobile game producers in China.
The market value of online games, which include client games, Web games and social games, was 60.2 billion yuan ($9.7 billion) last year, and the share for mobile games was only 4 billion yuan, which although small, has been growing rapidly, Liu said.
"It's estimated that this year, the share for mobile games can reach 10 billion yuan," she said.
Founded in August 2010, Tianjin Pictograph Technology specializes in developing large-scale cross-platform online simulation games and now employs 50 people. In 2012, its revenue was double that of 2011, and Liu said she expects it to reach between 60 million yuan and 70 million yuan this year.
Last October, the company launched its first online simulation game, City of Splendor, targeted at smartphone and tablet users aged from 15 to 30. It soon became popular on the Chinese mainland.
"Actually, our game is targeted at the international market," Liu said, "So the looks of the characters are more in the Western fantasy style. We also added many other cultural elements that are localized according to the requirements of each market."
City of Splendor has now been launched in Hong Kong, Taiwan, Macao and South Korea. In May, the game will be available in Russia, and deals with Indonesian and Thai operators have also been sealed. It will hit Europe and the United States in July.
"We are not sure if the game will be well received by Western users because people in the East and West like different styles of games," Liu said.
In China, games are usually designed to meet users' wishes to compete with each other and to show off individual abilities in the virtual world, but in the West, people prefer to play games for relaxation in a more social context, Liu said.
"So we have weakened the competition theme and strengthened the social function," she said.
The global mobile game market value in 2012 was $17 billion, with the US' 100 million users accounting for 30 percent. China now has 220 million phone users and its market share is growing fast.
"It used to be hard for us to compete in the international market," Liu adds. "Game developers have to rely on local operators, who had different formats in different countries. Our format was different from those in Japan and South Korea, but now the opportunity comes because the operating systems of smartphones and tablet computers are mostly the same worldwide - Android or iOS."
In the area of computer online games, China lags far behind Japan and the US, represented by the likes of Nintendo and Blizzard Entertainment. However, on the smartphone platform, Europe, the US and Japan, like China, have all just started.
"The difference now is that people in those countries have a stronger sense of copyright," Liu said.
For single-player mobile games, the most important thing is its protected creative content, like that of Angry Birds, Plants vs Zombies and Temple Run. But, in China, if a good game is developed, it will soon be copied. This is why Tianjin Pictograph Technology has decided to focus on online games.
"We cannot make money if we do single-player games," Liu said.
For the past 12 years, Chinese game players have become accustomed to paying for online games.
"For City of Splendor, in terms of artistic design, story-telling and programming, I think we are on the same level as US companies because we are one of the first companies to develop games on smart platforms," Liu said. "We have some innovations in this game, including ways to fight, besides technological advantages."
The company has developed a "multiple-platform 3-D engine" that can write codes for the games.
Yuan Zhanyang, vice-general manager of the company, said the engine can develop games for both Android and iOS systems at the same time, which will cut costs and save time.
In China, there are less than 10 companies that have their own development platform. Most have to seek cooperation with a third party to develop the games.
The second cross-platform 3-D simulation game, with a Star Wars setting, will be finished at the end of April, and is also targeted at the international market.