Smartphone users victims of scams
Matrix barcodes may contain viruses, malicious software
Shoppers scanning matrix barcodes for discounts are getting more than they bargained for — malicious software.
A growing number of people are reporting scams involving the codes, the black-and-white squares now seen on most advertisements.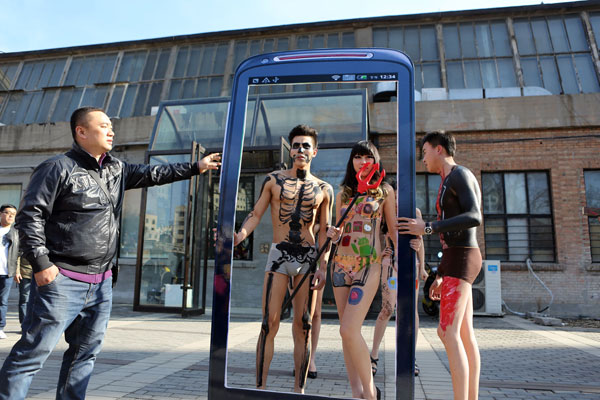 Protesters at Beijing's 798 art district call for the protection of cellphone users' privacy on Sunday. Several used body painting to protest against telecom operators — and cellphone software — that may leak or sell users' personal information. [CANG GONG / FOR CHINA DAILY]
When shoppers use smartphones to scan the codes, their devices open a website for a company or product and often receive a discount voucher.
However, instead of receiving a bonus, many people say they have fallen victim to crooks.
Media in Shijiazhuang, the capital of Hebei province, reported on Monday that a woman had money wiped from her phone account after scanning a matrix barcode on an ad on the wall of a bus stop.