Developers diversify funding methods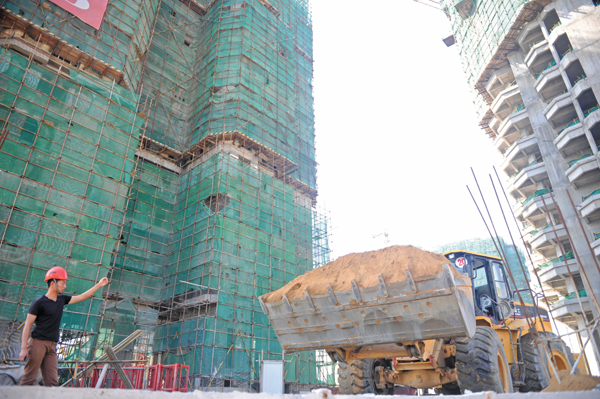 Construction of residential property takes place at Boao in Hainan province. [Photo/Provided to China Daily]
Move reflects industry's response to tight credit from commercial banks
Experts are divided on whether the central bank's latest repurchase operations to drain 55 billion yuan ($8.95 billion) from the market on Tuesday marks a signal of credit tightening, which will have an impact on property developers.
As domestic developers become less reliant on bank loans to fund their projects, most analysts believe the policy is more of a short-term monetary tool to mop up liquidity than a solution to influence the investment decisions of property developers.
But, of course, a tightening in liquidity could affect the many loans that are tied to properties as collateral, which, in turn, would have an indirect impact on prices.
Bank lending used to be the most important capital resource for property developers, but in recent years the percentage of bank loans in the overall development capital mix declined from more than 20 percent to about 15 percent in 2012, according to Hui Jianqiang, research director of Beijing Zhongfangyanxie Technology Service Ltd, which provides information about the real estate market.
Figures from the National Bureau of Statistics show that developers used to borrow 19.2 percent of total project development costs from commercial banks in 2008, but the ratio dropped to 15.1 percent in 2011, and slightly edged up to 15.3 percent in 2012.
The difficulty getting loans from commercial banks is pushing Chinese developers to seek alternative funding, including issuing bonds, trusts, and collecting buyers' pre-sale payments.
In spite of the market's recovery in 2012, only developers with a good credit record, steady business performance and outstanding market competitiveness can pass the strict loan verification processes of banks, an insider from a large commercial bank was quoted as telling the Guangzhou-based 21st Century Business Herald.
James Macdonald, head of Savills Research China, said it has been getting harder for developers to get loans from banks since the second half of 2010.
Banks have started to grant loans only to a select group of developers on a "white list", based on their scale, track record and financial position, he said.
It is believed that even though these developers on the "white list" can still borrow from banks, they are facing higher equity-to-asset ratio requirements, which are expected to be even higher than 35 percent, said Macdonald.
Property developers borrowed a total of 3 trillion yuan from commercial banks in 2012, up 10.7 percent year-on-year, but personal loans for home purchase surged 13.5 percent year-on-year to 8.1 trillion yuan during the same period.
"That indicates homebuyers have become a major source for developers' capital," said Zhang Huadong, an industrial analyst from Xiangcai Securities.
While a considerable portion of developers still count on bank loans for new projects, most developers have started broadening their financing channels.
From October 2012 to January 2013, three domestic developers - Shanghai-based CIFI Group, Jiangsu-based Future Land Group and Jiangsu-based Golden Wheel Group - have launched initial public offerings on the Hong Kong Stock Exchange.
At the same time, China Vanke announced a plan to convert less-traded B shares to H shares to establish its international financing platform.
Furthermore, a large number of offshore corporate bonds have been issued by mainland developers listed in Hong Kong.
In January 2013, 16 companies raised about $6.85 billion, more than half the total US dollar-denominated debt issued by mainland developers in 2012.
As developers are now less reliant on bank financing, they will not be hit as hard as before as the central government tries to cool the residential market by tightening bank credit, said Macdonald.