China, France eye sustainable economic ties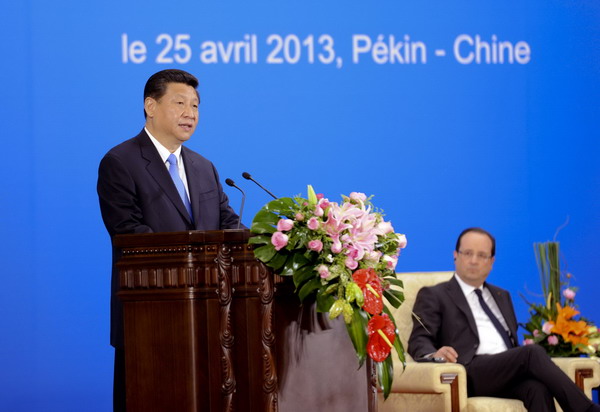 Chinese President Xi Jinping addresses in front of hundreds of Chinese and French businessmen as he attended a business forum together with French President Francois Hollande. [Photo / Xinhua] 
BEIJING - China and France pledged Thursday to establish a sustainable partnership as French President Francois Hollande paid his first state visit to the Asian country.
"Economic cooperation constitutes an important part of the comprehensive strategic partnership between China and France," Chinese President Xi Jinping said in a speech in front of hundreds of Chinese and French businessmen as he attended a business forum together with Hollande.
"China and France are highly complementary to each other economically and there is immense potential for cooperation between the two countries," Xi said at the Great Hall of the People in downtown Beijing.
He added that the two sides should boost economic cooperation "with a strategic view" and explore new fields to establish a close, permanent and sustainable economic partnership.
The Chinese president said he hopes the enterprises from both sides will boost cooperation in energy saving, environment protection, trade of agricultural products, medical care and digital economy besides traditional sectors including aviation, nuclear energy and the auto industry.
Earlier, Xi and Hollande witnessed the signing of a string of deals after their talks, including one for China to purchase 60 Airbus passenger planes.
Xi said China welcomes French investment and encourages Chinese enterprises to invest in France.
In his speech, the Chinese president said he hopes France will help urge the EU to relax restrictions on exporting high-tech products to China.
"China is willing to import more French products," he said.
For his part, Hollande applauded China's great achievements over the past thirty years and more and expressed his appreciation for China's support for Europe's efforts to resolve the debt crisis.
France hopes to cooperate with China and expand two-way trade and investment in pursuit of common prosperity, Hollande said.
At the forum, the two leaders said they are opposed to protectionism, calling for fair business environments.
On Thursday, the two sides issued a joint press communique to highlight their consensus during Hollande's China trip.
According to the communique, the two presidents agreed to set up a mechanism for high-level economic, fiscal and financial dialogue.
In the communique, the two countries called for early reform of the international financial and monetary system, saying that the 2010 quota and governance reform of the International Monetary Fund should be implemented as soon as possible.
China and France also agreed to boost cooperation on achieving the Millennium Development Goals, including making contribution to the progress of developing countries, especially African countries, according to the joint communique.